September 25, 2021 - 10:20am
Dean M. Sehm Jr.
posted by
LaVern Falcone
.
     Dean M. Sehm Jr., 62, formerly of LeRoy, NY passed away at Banner Estrella Medical Center in Arizona on Sept. 17,2021 after a battle with COVID.  He was predeceased by his parents, Dean and Maybelle Sehm.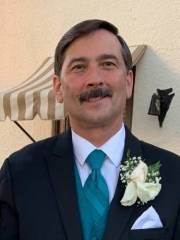 Dean was a loving husband, father, grandfather, brother and uncle.  He worked for Ryder Trucking as a Senior Manager in charge of P M Optimization.  Dean enjoyed shooting, hunting, fishing, classic cars and driving his corvette.  He was very active with the Christ Presbyterian Church and served as head usher.
     Dean is survived by his wife, Sheri; two sons, Dean III (Kimberly) Sehm of AZ and Robert (Yessica) Sehm of AZ; step-daughter, Kadi Heekin; 7 grandchildren, Meredith, Dean IV, Ava, Alexander, Jeremy, Julian and Samuel; brother, Darryl Sehm of LeRoy; sister, Cheryl Lead (Larry Koester) of Perry; nieces, Amy and Crystal; nephew, Darryl; many great nieces, great nephews and always cherished, Karen, Matthew and Nikki Clark of NY.
     A Celebration of Dean's Life will take place in Arizona at a later date.  Arrangements in Arizonia are being handled by Thompson Funeral Chapel in Goodyear, AZ.
     Your memories and condolences may be shared with Dean's family locally at www.falconefuneralhome.com.