September 29, 2021 - 9:44am
Mrs. Regina A. Hovey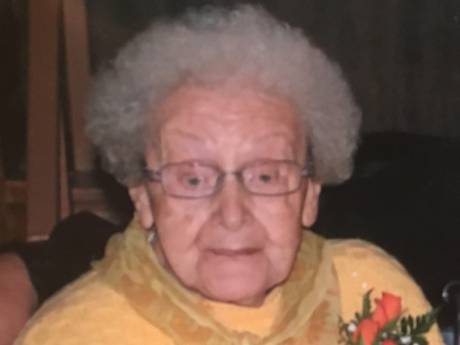 Corfu - Regina A.  Hovey, age 99 of Corfu,  passed away on Tuesday, September 28, 2021 at Premier Genesee Center for Nursing and Rehabilitation in Batavia.
Mrs.  Hovey was born Sunday, October 9th, 1921 in Cheektowaga, a daughter of the late Anthony Slominski and Gladys Sulinski Slominski.
She was a member of St. Joseph's Church and was very proud of her volunteer work she did at the Batavia VA Medical Center.
She is the wife of Harwood M. Hovey who passed away on June 13, 2006.
She is survived by her children, Mark Hovey of Louisiana, Patricia Epple of Batavia, Kimberly Hovey of Corfu, Kathleen Jasinski of Batavia and Julie (Tom) Madden of Georgia; her sister, Irene Yurkovic of Florida; two grandchildren, Glen (Michelle) Judd and Brett Judd; two great-grandchildren and several nieces and nephews survive.
She is predeceased by her grandson Leonard A. "Jon" Jasinski, III who passed away on February 27, 2017 and her siblings; Anthony and Stanley Slominski, Pearl Tatko, Rita Boring, Wanda Tempio, Helen Best and Celia Ratulowski.
Family and friends are invited to call on Friday, October 1st, 2021 from 10:30 a.m. to 11:30 a.m. at the Bohm-Calarco-Smith Funeral Home, 308 East Main Street, Batavia, where prayers will immediately follow visitation at 11:30 a.m. Her Mass of Christian Burial will be celebrated at 12:00 p.m. on Friday, October 1st, 2021 from St. Joseph's Church, 303 East Main Street, Batavia. She will be laid to rest in the family plot in Elmwood Cemetery.  In lieu of flowers, memorials may be made to East Pembroke Fire Department, P.O. Box 44, East Pembroke, New York 14056. To leave a condolence, share a story or light a candle in her memory, please visit www.bataviafuneralhomes.com.
*St. Joseph's Church requires all in attendance to wear facial coverings upon entering the church. Once seated you may remove your facial covering. Thank you for your consideration*