September 30, 2021 - 10:02am
Roger Ellis Ditzel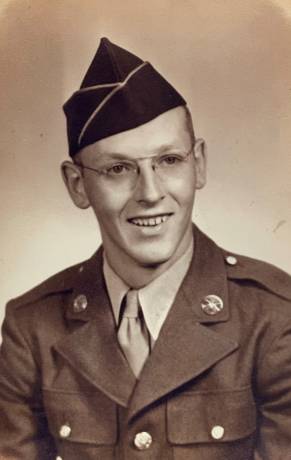 Roger Ellis Ditzel, 95, of Corfu, NY died peacefully on Monday September 27, 2021 at the Batavia VA Medical Center, Spruce Lodge. He was born on January 11, 1926 in East Pembroke to the late Lawrence and Lottie Ditzel.  Roger is preceded in death by his wife; Shirley (Bohn). The couple was married on July 5, 1947.
Roger served his country honorably with the United States Army 41st Infantry Regiment, 2nd Armored Division "Hell on Wheels" during World War II.  For his service he received a: Bronze Star, Purple Heart, Good Conduct, American Campaign, European –African-Middle Eastern Campaign (3 stars), WWII Victory, Army of Occupation (Germany), Combat Infantryman Badge and Ruptured Duck Pin.
Roger's interests included gardening, hunting, coin collecting, trap shooting, bowling and family genealogy. He was one of the founders of Boy Scout Troop 64 and served as a trustee for the East Pembroke Federation Church.
Surviving is his son; Larry (Sally) Ditzel of Batavia; his daughter Linda (Anthony) Distaffen of Cape Coral, FL; grandchildren Kimberly (Ty) Briggs of Flagstaff, AZ, Michael (fiancé Jenn McDermott) Ditzel of Darien, Rhonda McClurg of E. Bethany, Anthony (Stacey) McClurg of Oakfield, Aaron (Nicole) McClurg of Missoula, MT, Rebecca McClurg-Reimer (Matthew) of Magnolia, DE, Eve McClurg-Gardner (Brad) of Ft. Myers, FL; great-grandchildren McKenzie and Hailey Briggs of Flagstaff, Hunter and Holden Ditzel of Darien, Nadine McClurg of Batavia, Dana Cipra of Pavilion, Mason and Chelsea McClurg of Oakfield, Kehla and Karis McClurg of MT. and Trevor Reimer of DE.
Burial will be in the Western New York National Cemetery in Pembroke, NY. There will be no prior calling hours and family services will be held privately.
In lieu of flowers, memorials may be made to the Pembroke Veterans Outreach, Attn: Matt Moscato PO Box 308 Corfu, NY 14036. For more information call 585-343-8260 or to leave a message of condolence please visit www.gilmartinfuneralhome.com. Arrangements completed by Gilmartin Funeral Home & Cremation Company, Inc. 329-333 West Main Street Batavia, New York 14020.