October 7, 2021 - 10:26am
Ronald E. Stevens Jr.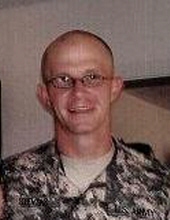 Ronald E. Stevens, age 43, of Silver Lake, passed away Friday October 1, 2021 at Buffalo General Hospital in Buffalo. He was born in Buffalo, NY on August 22, 1978 a son of Ronald E. and Carol A. (Beals) Stevens Sr. of Silver Lake
Ron was a 1996 graduate of Perry Central School and ITT Tech in Getzville. He served proudly with the US Army as a specialist E-4 with the Task force for Odin. He worked for P.C.B Piezotronics in Depew where he was a calibration technician.
Ron attended St. Isidore's Catholic Parish in Perry. He loved being outdoors and spending time with his family.
Along with his parents he is survived by his wife: Kassidy A. (Herniman) Stevens whom he married on August 29, 2009, children: Chloe L. Stevens and Deacon F. Stevens both at home, sister: Nicolas A. (Richard) Telesco of Germany, mother-in-law: Teresa (Sabin) Hoad of Prattsburg, sister-in-laws: Jolyn (Chris) Eaton of Bath, Kaela (Nick Adkins) Woeller of Batavia, brother-in-laws: Aaron Harman of Silver Lake, Sabin Hoad Jr. of Prattsburg, Joey (Christine) Hoad of Hammondsport, along with many aunts, uncles, nieces, nephews, cousins and friends.
Services have been put on hold do to circumstances beyond our control. A future date and time will be announced.
(In lieu of flowers) Memorial contributions may be made to the family. To leave a message of condolence please visit www.eatonwatsonfuneralhome.com. Arrangements completed by Eaton-Watson Funeral Home, LLC, 98 North Main Street, Perry, New York 14530.