October 13, 2021 - 2:34pm
John M. Deleo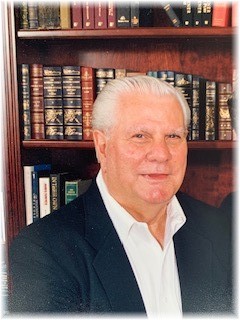 John M. Deleo, 89 of Batavia, passed away peacefully on Saturday, October 9, 2021 at Premier Genesee. He was born September 29, 1932 in Batavia, to the late Nicholas and Dominica (Colangelo) Deleo. He is preceded in death by siblings, Mary (Emmet) Elmore, Anna Deleo, Antoinette Deleo, Frank (Sarah) Deleo, Yolanda (Ronald) Phillips and Louis (Lorraine) Deleo.
Mr. Deleo graduated from Batavia High School in 1951 and Rider College in 1953. He was the President of Ontario Liquor Distributors in Rochester for 30 years. John was a member of Resurrection Parish in Batavia.
He is survived by his beloved wife Helen (Lembcke) Deleo of Batavia, children, Lynn (Mark) Dailey of TX, Nancy (Scott) Tashjy of NJ and Michael Deleo of VA, 5 grandchildren, one great-grandson, along with many nieces and nephews.
There will be no prior calling hours and services will be held privately. Mr. Deleo will be laid to rest in St. Joseph's Mausoleum, Batavia.
In lieu of flowers, memorials may be made to Resurrection Parish, 303 E. Main St. or to Crossroads House, PO Box 403, Batavia, NY 14020. Thoughts and condolences may be left online at www.gilmartinfuneralhome.com. Arrangements are being completed by Gilmartin Funeral Home & Cremation Company, Inc. 329-333 West Main Street, Batavia, New York 14020.