October 13, 2021 - 5:28pm
Mr. David G. Oderkirk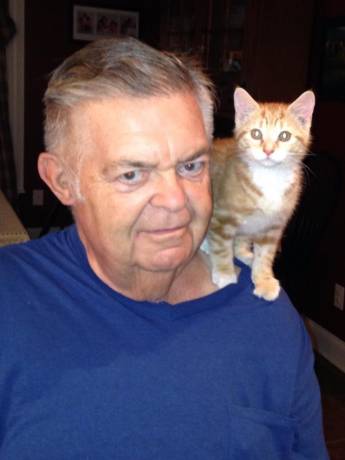 Stafford - David  G. Oderkirk, age  81, of Stafford, passed away on Tuesday, October 12, 2021 at Brothers of Mercy Nursing Home in Clarence.

He was born August 29, 1940 in Batavia, a son of the late George C. Oderkirk and Mildred Baker Oderkirk.

He enjoyed woodworking, gardening and attending his grandchildren's sporting events. He was a longtime rural postal carrier in Byron and self-employed farmer.

David is the husband of the late Sandra D. Hartrick Oderkirk who passed away in 1988 and Sharon Lee Voorhees Oderkirk who passed away in 2013 and grandfather of the late Warren "Buddy" Oderkirk, Jr. who passed away on November 15, 2016 and great-grandfather of Kennedy Rose McCullough who passed away on March 9, 2018.

Surviving are his children, Warren Oderkirk, Sr. of Byron, Andrew (Michele) Oderkirk of St. Clair, Michigan, Audra Bates of Byron, Christa Oderkirk of Batavia and Pam (Aaron) Sharp of Byron, New York; ten grandchildren; Courtney (Andy) Kelkenberg, Chelsea (Dan) Mlynarek, Sarah (Mark) Hazlette, Nicholas (Olivia) Oderkirk, Dylan Bates, Ashley (Rich) McCullough, Kerri Bates, Seth Sharp, Jayme Sharp and Makayla Oderkirk; five great-grandchildren; Olivia McCullough, Quinn and Hudson Kelkenberg, Jackson Mlynarek and Caleb Oderkirk; his brother; Richard (Joan) Oderkirk of Strongsville, Ohio; his sister; Jean (Floyd) Pissanos of Hornell, New York; along with three step-children, several step-grandchildren, step great-grandchildren and nieces and nephews.

Calling hours will be held on Friday from 4 p.m. to 7 p.m. at the H.E. Turner & Co. Funeral Home, 403 East Main Street, Batavia, where services will be held on Saturday at 10 a.m. He will be laid to rest in Morganville Cemetery in Stafford.  In lieu of flowers, memorials may be made to the Byron-Bergen FFA - Alumni and Supporters, 6651 Searls Road, Byron, New York 14422. To leave a condolence, share a story, or light a candle, please visit www.bataviafuneralhomes.com.