October 14, 2021 - 10:50am
Thomas Joseph Spadaro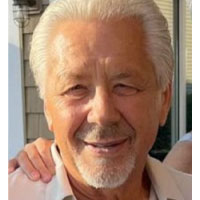 Thomas Joseph Spadaro, 74, of Le Roy, NY passed away on Saturday, October 9, 2021.
Tom was born on August 24, 1947 to Samuel and Susan (Stoppi) Spadaro in Frackville, Pennsylvania. He moved with his parents as an infant to the town he grew to love, LeRoy, New York.
After graduating from LeRoy High School, Tom enlisted in the Air Force during the Vietnam War. Due to a medical condition, he was honorably discharged early and returned to LeRoy where he married Linda Brown. They had two children, Amy in 1972 and Joseph in 1974.
While raising his family, Tom worked for C.P. Ward and Bell Construction. If you are anywhere in the Rochester area, chances are good that you will travel over a bridge or pass by a building that he worked on. He loved to putter in his garage, fixing and painting cars and hosting gatherings with family and friends.
As his children grew up, Tom relocated to Orange County, California. He started Southern California Maintenance and grew a successful company that encompassed all of his building talents.
While in California, he met his wife, Gina (Wright). They shared a love of country-western music and dancing. Tom proved to be very talented at the two-step and wasn't shy about showing it off.
On Monday, December 15, 1997, Tom called Gina and asked her to marry him. She accepted and they went to City Hall for a romantic ceremony on their lunch break.
While Tom was in California, his son Joe became interested in the limousine business. Joe started operations in LeRoy, and Tom used his self-taught craftsmanship to transform bus shells into party buses and ship them back to Joe. Seventeen buses later, Gina had had it with not having any parking space in the driveway or the garage, so Tom took this opportunity to start their relocation to LeRoy, back to the community and family that he loved.
Tom and Gina acquired the property on the creek bank where Tom built their beautiful home. Every inch of their house, inside and out, has been touched by Tom's talented hands.
After moving the well-established limousine business to its current location, Tom and Joe began buying distressed properties in the Village and bringing them back to life. Tom could walk into a dilapidated, neglected house and have a clear vision of what it could become. He was skilled in all aspects of homebuilding and remodeling and worked tirelessly in the transformation of each project, making LeRoy beautiful one home at a time. If you ever saw Tom's old yellow truck parked in front of a house, you knew there was hard work and magic going on inside.
You knew Tom cared about you if he gave you a nickname. Many friends, family members and co-workers became known by the nickname that Tom had given them. To name a few- Scoob, Chiquita Banana, Schmo, Buddy Boy, Beaner, Boss, Dude, Missified, Cassified, Squirrel, Ron Boy, Lulabell, Mouse, Shermanator, and Beulah.
Tom served on the Zoning Board of Appeals for the Village.  If he firmly believed in a person's cause, he fought for them with everything he had.
Tom was instrumental in getting the LeRoy Community Pool re-opened. He believed that it was the community's obligation to see that every child had the opportunity to learn how to swim and to have a venue for healthy social interaction. Aside from his family, this accomplishment was Tom's greatest source of pride.
Tom was predeceased by his parents and his first wife. He is survived by his brother, James Spadaro of Bonsall, California; his wife, Gina; his daughter Amy (Daniel) Vanderhoof; his son Joseph (Nikki Stone) Spadaro; and five grandchildren- Sydney and Zachary Vanderhoof; Joseph, Dominic and Anthony James (AJ) Spadaro.
Services will be held privately by the family. A celebration of life will be held in Tom's honor this coming Spring at his beloved Community Pool prior to the opening of the next pool season. The date and time will be published at a later date. We will invite all of Tom's friends and family to join us in celebrating his beautiful life. Any memorial donations can be made to the LeRoy Community Pool in care of Amy Vanderhoof, 8 Garden Lane, LeRoy NY 14482. To share a memory or a condolence, please visit:  www.doughertyfuneralhomes.com