October 21, 2021 - 11:20am
Donald L. Torcello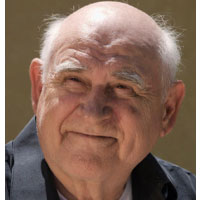 Donald L. Torcello, 89, passed away peacefully on Thursday, September 16, 2021, at the home of his son, Joseph.
Donald was born in Batavia, NY.  He was the second son of two children, his brother, the late Anthony Jr., sons of the late Anthony and Mary (Smiegelski) Torcello.
Donald attained his undergraduate degree from SUNY at Brockport, and, he is remembered as a teacher of junior high school science at the Corfu-East Pembroke High School.  He retired in the middle 1980s, relocating to Granada Hills, CA for the remainder of his life.
Donald was married to his surviving and loving wife, Dolores K (Pirro) Torcello, for 66 years.  He was a man of many talents.  He loved working with his hands in fields as diverse as making bread, homemade Italian sausage, and doing carpentry, upholstery, and dress making.
In California, friends and family alike, will fondly remember being invited to and served a 'family style' dinner seated around the table at their home.  During his retirement years, Donald pursued his passion for artistic wood carving; winning many awards at carver's conventions across Southern California. 
Donald cherished the company of, and is survived by his wife, Dolores, their immediate family; sons, Joseph, John, daughter-in-law, Carol, and grandson, Justin, and his wife, Maggie.
In the final days of his life, Donald asked, in lieu of flowers, those who felt compelled, to make a donation in his memory, to either the St. Jude's Children's Research Hospital, or, an unrestricted donation to the Corfu-East Pembroke 'Dollars for Scholars' program.