October 22, 2021 - 8:32am
Brent Austin Schum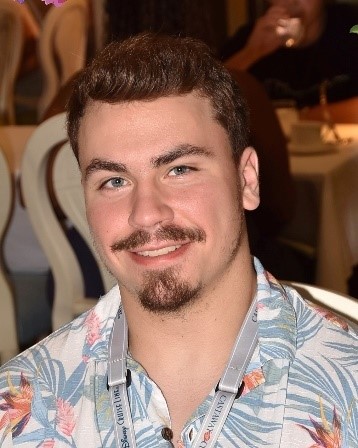 And so, without warning, no last goodbye, our beloved son left the surly bonds of earth – on Tuesday October 19, 2021, Brent Austin Schum, loving son and brother passed away suddenly and unexpectedly at age 22. Brent was born June 2, 1999 in Rochester, NY to Gary Schum and Susan Dominesey-Schum.
Brent was a 2018 graduate of Alexander Central High School and a graduate of Alfred State University earning an AS degree in Welding and graduating Magna Cum Lauda in June 2020.He was employed as a welder and most recently foreman at Graham Corporation in Batavia, NY.
Brent was a lot of things, outdoorsman, athlete, master craftsman, friend, big brother, son, grandson, cousin. He played one year of varsity football in 2017 to honor his best friend Brian West. Brent took up horseback riding under his Mom's tutelage and became a very good cowboy! He played 12 years of Batavia Ramparts hockey and his Dad had the privilege of coaching him every year. He became interested in Welding in 2015 and quickly focused his efforts to become one of the best. Brent was self-taught, learning to build and fly radio-controlled airplanes and drones. He became an avid hunter, equally adept using a bow or shotgun – we enjoyed many steaks and sausage from Brents efforts! Brent enjoyed many trips to Disney World over his lifetime and you would often find him camped out anywhere there was ice cream. One of Brents favorite pastimes was having his friends over for bon fires at his house and hosting all night parties. When he wasn't working or playing you could find Brent in the barn rebuilding his '72 Chevy Chevelle and when he wasn't doing that you might find him on the couch watching continuous episodes of Family Guy and The Simpsons.
As a brother, like any young brothers, Brent and older brother Grant would have their moments of torment but in later years they became best of friends often hanging out in the barn (perhaps having a cocktail or two) or snowmobiling and skiing together in the winter months. One of our favorite events was watching Brent and Grant match wits as they tried traded barbs about each other. He was Courtney's older brother and being the middle child Brent was often tasked with occupying his little sisters time whether it was playing school, camping out in a tent or in later years helping refine her skills by shooting pucks at her or having a catch for softball. No matter what the request, Brent was always there to support his siblings.
As a son, he was as perfect as they come – dependable, caring, selfless, hardworking, tolerant, quick-witted and had a hugely big heart – Brent was always willing to share some of his time no matter what the ask was. Brent also had the distinction of being born on the same day (June 2nd) as his Dad and his Grandpa Earl – making a special day even more special. We are counting on Grandpa Bill and Brian West to take good care of our little Brent until we all meet again.
Brent is survived by his mother Susan Dominesey-Schum, father Gary Schum, brother Grant Schum, sister Courtney Schum, Grandparents Jean & Earl Dominesey, Grandmother Meryl Schum and many aunts, uncles, and cousins.
Calling hours will be Monday October 25, 2021 from 4-8PM at Gilmartin Funeral Home & Cremation Company Inc. 329-333 W Main St. Batavia, NY 14020. An 11:00am Funeral Service will be held on Tuesday October 26, 2021 at the First United Methodist Church, 8221 Lewiston Rd, Batavia, NY 14020. There will be a lunch gathering following the service at the Alexander Fireman's Recreation Hall, 10708 Alexander Rd, Attica, NY 14011.
In lieu of flowers, donations can be made to the Genesee Amateur Hockey Association, PO Box 9, Batavia, NY 14021-0009. To leave message of condolence please visit www.gilmartinfuneralhome.com. Arrangements completed by Gilmartin Funeral Home & Cremation Company, Inc. 329-333 West Main Street Batavia, New York 14020.