October 22, 2021 - 2:09pm
Eric D. Maloney
posted by
LaVern Falcone
.
Rochester, NY ~ Eric D. Maloney concluded 44 years of life on October 19, 2021 with the admiration of many.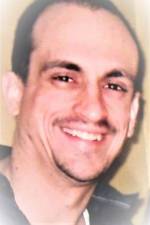 Missed will be his smiles, unique wit and fighting spirit.
     Eric was predeceased by his father, Kelvin Maloney, Fairport; grandparents Richard and Dorothy Maloney, Rochester; Anthony and Lena Serusa, LeRoy; and an aunt, Lynne Serusa. He is survived by his devoted mother, Jean Serusa and sister Jill (Sean) Hall of Buffalo, niece and nephew, Briana and Easton; dear uncles, aunts: Richard (Marlene) Maloney, Jr. of Syracuse and David (Julie) Maloney of Charlotte NC; cousins, Todd, Kevin, Katie, Bridget and Justine. April Smith and their dog, Murphee provided daily companionship. Extended family and friends completed Eric's circle of support and love. 
     Nature provided solace and peace for Eric. A memory gift to www.adirondackcouncil.org will help conserve beauty for future generations. Eric also desired to assist further research at the Wilmot Cancer Institute (Lymphoma Research Fund) Strong Hospital, University of Rochester www.urmc.rochester.edu for link.
     Eric's family will receive friends on Friday, Nov. 26 from 4 ~ 8 PM at the Falcone Family Funeral & Cremation Service Inc., 8700 Lake St. Rd. (Rt. 19), LeRoy, where his Memorial Service will be held on Saturday, Nov. 27 at 10:00 AM.
     To share a memory or leave a condolence, please visit www.falconefuneralhome.com.