Image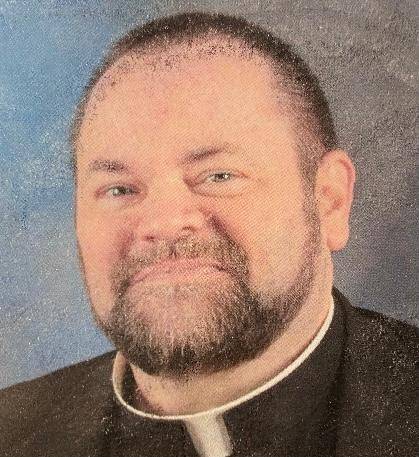 Rev. James Leo Fugle, 57 of Varysburg, passed away on Saturday, October 23, 2021. He was son of the late Leo and Carol (Conrad) Fugle. He is preceded in death by his grandparents, numerous aunts, uncles and cousins.
James Leo Fugle was born January 28, 1964 and lived in Varysburg, NY.  He was a graduate of Attica Central School, received his BA degree from Canisius College, Buffalo, NY and an MA degree in Theology from Christ the King Seminary, East Aurora, NY.  He was ordained to the priesthood on May 17, 2008 at St. Joseph's Cathedral, Buffalo, NY.
Jim was first inspired to become a priest when he was an altar server at St. Joseph's Church in Varysburg with Fr. "Joe" Boruszewski.  He enjoyed working with and mentoring various youth groups, especially Wyoming Association of Catholic Youth (WACY), and organized several beautiful live nativities at Christmas and Shadow Stations of the Cross at Easter.
Prior to joining the priesthood, Jim worked briefly at a nursing home in Warsaw, NY, and as a toll collector at the NYS Thruway in Ridley, NY.  He was the heart and soul of every gathering he attended and had a wicked sense of humor.  Although a newbie to Social  Media, he began every day with a daily prayer on Facebook which brought hope, comfort, and peace to so many.
He is survived by his sisters, Yvonne "Vonnie" (Dennis) Keeler of Fredericksburg, VA, Kathy Koestler of Corfu, Penny (Vaughn) Sheffield of Attica; four nieces and one nephew, Kim (Mike) Bartz, Mary Koestler, Sarah Sheffield, Matthew (Cherri) Sheffield, Anne (Steve) Wolford,  Aunt Marion Conrad, grand-nephews Kenny, Tristan, Nathan, and grand-nieces Aria and Lydia.
Friends are invited to call on Thursday, October 28, 2021 from 3 to 7 PM at Saints Joachim and Anne Parish, 2311 Attica Road (Route 98), Varysburg, NY  14167, followed by a Mass at 7 PM.  Friends may also call from 10 to 11:00 AM on Friday, October 29, 2021 at St. John Neumann Parish, 991 Centerline Rd., Strykersville, NY 14145, followed by an 11:00 AM Mass of Christian Burial celebrated by Bishop Mike Fisher.
In lieu of flowers, memorials may be made to the American Diabetes Association www.diabetes.org, or in his memory to any Catholic Church. To leave thoughts or condolences visit www.marleyfuneralhome.com. Arrangements completed by Marley Funeral Home, LLC, 135 Main Street, Attica, New York 14011.