October 27, 2021 - 12:00pm
Jean Embt Petre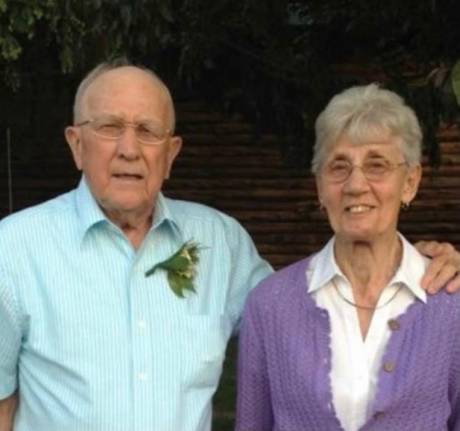 Jean Embt Petre of Varysburg, passed away on October 26, 2021 surrounded by her loving family & her Agape family. She was born in Varysburg, on November 6, 1925 to the late Millard F. and Mabel M. Embt. She is preceded in death by her husband Howard Petre who passed away November 17, 2018 and her brother Clair and sister-in-law Eleanor Embt.
Jean will be remembered for many things, including her kindness and gentle nature. Jean loved her family. There was nothing she wouldn't do for them. She will be forever missed.
In her younger years Jean carried on her parent's tradition of the Embt's Maple Syrup business. She also worked at Rude's Grocery Store in Varysburg. Jean did many ham dinners for her St. Joseph's Church and was a member of the Fireman's Auxiliary.
Jean loved going with her girlfriends to lunch and craft shops. She loved bowling, cross country skiing, knitting and riding her bike. She was Best Baker in town.
Jean is survived by her children Michael (Lynette) Petre, Mark (Barb) Petre and Brian (Cheryl) Petre, 8 grandchildren and 9 great-grandchildren.
Friends are invited to a 10:30 AM Mass of Christian Bural at Saints Joachim and Anne Parish, 2311 Attica Road (Route 98), Varysburg, NY 14167 on Saturday, October 30, 2021. She will be laid to rest in Varysburg Cemetery.
In lieu of flowers, memorials may be made to the Alzehiemer's Association www.alz.org. To leave thoughts or condolences visit www.marleyfuneralhome.com. Arrangements completed by Marley Funeral Home, LLC, 135 Main Street, Attica, New York 14011.