November 8, 2021 - 10:13am
Rose M. Hallock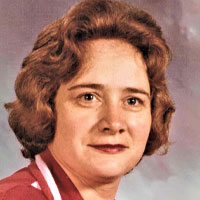 Rose Marie Hallock, 79, departed on her final journey with her son by her side, November 4, 2021. She had been a resident of LeRoy Village Green for several years.

Rosie (as she was known), was born on the family farm November 26, 1941, in Belfast NY. She is the daughter of the late Edward J. Hallock and Late Alta May Hallock (nee Snyder). She is the sister of Norma P. Main of Silver Springs and Edward J Hallock Jr. of Pavilion. 

She was married January 24th, 1959, to Bonifacio Pedraza and had 3 sons, Anthony L. (Alicia) Pedraza, of Clermont FL, Ricky J. Pedraza of Orlando, FL, and Larry M. Pedraza of Batavia, NY. 
She was a member of the North Darien Bible Church for 54 years and retired from the Alexander Central School system in the kitchen and custodial departments. 

Rosie could stretch pennies farther than most could dollars but no matter how little she had she would share with anyone, anytime, be it a ride to church, a home cooked meal, or a bed to sleep on. Her kindness was shared with animals, children, college students, senior citizens, and sometimes whole families. A true fan of garage sales, auctions and yard sales, she was known to host some grand sales at whatever home she was currently fixing up. 
Hearing impaired due to scarlet fever at age 4, she could bluff better than professional card players but sneaking in after curfew would still find her waiting at the top of the stairs no matter how quiet you were.

She also leaves behind 1 Fierce Protector Ralph S. Madill, 4 grandchildren Nicole Thomas, Joshua Pedraza, Cheyenne Pedraza and Tylor Pedraza, 4 great-grandchildren, 8 nieces and nephews and numerous lives touched by her caring. 
In keeping with her giving nature, she has donated her body to University at Buffalo anatomical gift program. There will be no calling hours or services at her request. In lieu of flowers please consider donating to the Genesee County Habitat 4 Humanity, a community food pantry, or Mental health agency and keep paying it forward.