November 15, 2021 - 2:05pm
Bernard A. Buckenmeyer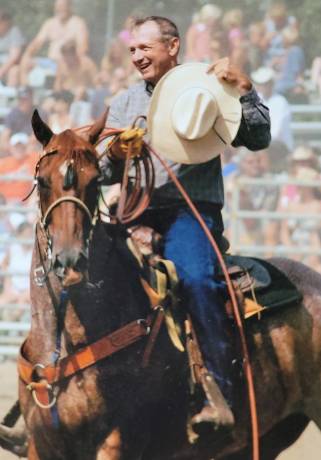 Bernard A. Buckenmeyer, 81 of Alexander, passed away on Friday, November 12, 2021, at the Grand Nursing and Rehabilitation in Batavia. He was born December 30, 1939 in Alexander to the late Charles J. and Margaret M. (Gilhooly) Buckenmeyer. He is preceded in death by granddaughter, Michelle G. Buckenmeyer, siblings, Charles (Violet) Buckenmeyer, Jr, George (Dorothy) Buckenmeyer, Elizabeth Buckenmeyer, Mary (Larry) Falkowski, Catherine Raines, Dorothy (Eddie) Moynihan, Lucy (Jim) Moag, Margaret (Jim) Hofmann.
Bernie owned and operated Buckenmeyer Brothers Dairy Farm in Alexander. He loved horses, rodeoing and farming. Bernie was one of the original starting members of the Attica Rodeo. Bernie is in the Notre Dame High School Hall of Fame for his exceptional talents in Basketball. He was always supportive in any adventure you did, a friend to all and he will be deeply missed.
He is survived by his beloved wife Geri (Heymans) Buckenmeyer, sons, Bernie Jr and Tim (partner Deb Barie), daughter Leigh (partner Bob Fuller); 6 grandchildren, Todd (partner Matthew) Buckenmeyer, Sara (partner Ray) Buckenmeyer, Cory (Alisha) Buckenmeyer, Darin (partner C.J.) Buckenmeyer, Adam (partner Abigail) Buckenmeyer, 3 great-grandchildren, Madison Eddy Peyson Foster and Lilia Alyce Buckenmeyer, brother Francis Buckenmeyer, brother-in-law Paul Raines, along with many nieces and nephews.
Friends are invited to a 12:00 Noon, Mass of Christian Burial to be held on Thursday, November 18, 2021 at Resurrection Parish, 303 East Main St, Batavia, NY 14020. He will be laid to rest in West Bethany Baptist Cemetery.
In lieu of flowers, memorials may be made to Alexander Volunteer Fire Department, PO Box 336, Alexander, NY 14005. To leave a message of condolence visit www.marleyfuneralhome.com. Arrangements completed by Marley Funeral Home, LLC. 135 Main Street, Attica, New York 14011.