November 18, 2021 - 2:11pm
Meryl Irene (Kriger) Schum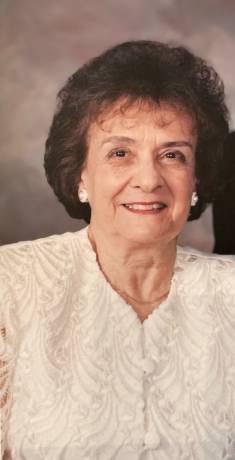 Heaven received a new angel – on Sunday November 14, 2021, Meryl Irene (Kriger) Schum, loving wife and mother of three children passed away at age 93 while in hospice in Winston-Salem, NC. Meryl was born October 10, 1928 in Darien, NY to Charles and Elizabeth (Klossner) Kriger.
Meryl worked tirelessly and selflessly for over 35 years at New York Telephone and later AT&T, across three different states. On June 19, 1948 she married William Schum, with whom she shared over 70 magical years. Together they raised one daughter, Suzanne and two sons, Richard and Gary.
Meryl was passionate about helping her children and grandchildren, always providing emotional and financial support whenever it was needed. She loved to travel cross-country with her family and later, traveling to spend time with grandchildren and support their endeavors. Meryl took many trips with family and grandchildren to Walt Disney World always making sure that the kids had plenty of souvenirs and treats to take home. Meryl would often volunteer to work on a holiday so she could be off on a particular night to watch her son Gary play his high school hockey game. She was a fan of the Buffalo Bills, attending the last two Super Bowls the Bills played in and making an annual trek to Buffalo to attend a game with her son Gary. After moving from Batavia to North Carolina, she and Bill enjoyed traveling back to Batavia and to Cary, IL to visit children, grandchildren, and friends.
She was fortunate to see her grandson Christopher play many NCAA and more recently professional golf tournaments. And as recently as July 4th, was able to attend the Ellicottville Rodeo to see her granddaughter Courtney perform her trick riding act and compete in many rodeo events.
She loved to watch Kimberly perform on stage and became a "super fan" for her grandson Connor during his high school football years. She enjoyed watching her two granddaughters Elizabeth and Courtney compete riding horses and watching her grandsons Grant and Brent play hockey (or just needling each other). There was never a visit to any of her children's homes when a shopping trip was not on the agenda – she loved to shop – mostly for others! One of her favorite hobbies was knitting, and she made many blankets for each grandchild, friends' children, and sweaters for herself and beanie hats for newborns at the hospital.  She even made a cherished blanket for a guinea pig!  Meryl also loved her miniature long-haired dachshund Minnie which kept her company after Bill's passing. Perhaps her greatest love was her husband of 70 years, Bill. We will always remember the wedding dances where they were the last couple standing – they were the exemplary soulmates.
Meryl was preceded in death by her father Charles, mother Elizabeth, brother Richard and grandson Brent.
She is survived by daughter Suzanne (Steve) Green, grandchildren Christopher (Rachel) Green, Kimberly Green (Brian Janty), Connor Green, great granddaughter Emma Green, son Richard Schum & granddaughter Elizabeth Schum, son Gary Schum & grandchildren Grant & Courtney Schum.
There will be no calling hours. A 10:00AM Funeral Service will be held Monday November 22, 2021 at Gilmartin Funeral Home & Cremation Co. Inc. 329-333 West Main Street Batavia, NY 14020.
To leave thoughts or condolences please visit www.gilmartinfuneralhome.com. Arrangements completed by Gilmartin Funeral Home & Cremation Company, Inc. 329-333 West Main Street Batavia, NY 14020.