November 21, 2021 - 12:09am
Richard D. Farmer
posted by
Ronald Konieczny
.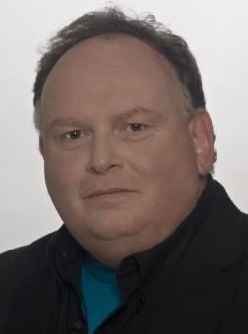 Richard D. Farmer, 65, of Alexander, passed away on Tuesday (November 16, 2021) at Rochester General Hospital, due to complications of Covid-19.
Rich was born November 9, 1956, in Lancaster, NY, a son of the late Lawrence and Geraldine Gloss Farmer.
He was a quiet, gentle man with a wonderful sense of humor. Rich was a machinist by trade, but he most loved playing his bass guitar and singing in many popular bands in the Buffalo and Rochester areas. He loved being outdoors in nature, particularly in the mountains. Rich was devoted to his family and loved spending time at home with his wife Liz who he called his 'Angel' and his son, James, of whom he was extremely proud. Rich had a soft-spot for animals and loved his dogs, Oliver, Gracie and Reggie, along with several cats.      
Survivors include his beloved wife of 32 years, Elizabeth (Liz) Athoe Farmer of Alexander; cherished son, James R. Farmer of Alexander; brothers, Lawrence Jr. (Marie) Farmer of New Jersey, Frank (Sue) Farmer of South Carolina and Fred (Nancy) Farmer of Lancaster; sisters, Jean Farmer of North Carolina and Veronica (Ted Hinton) Farmer of Lancaster; father in-law, Harold W. Athoe, II, of Batavia; brothers in-law, Daniel (Debra) Athoe of Batavia, John (Vicki) Athoe of Batavia, Peter Athoe of Kentucky and Paul Athoe of Batavia. He is also survived by many nieces and nephews.
He was predeceased by his mother in-law, Marilyn Athoe, sisters in-law, Deborah DeMay and Laura Athoe, and his beloved nephew, Thomas Farmer.
Rich's family will cordially receive guests at Resurrection Parish (St. Mary's site), 18 Ellicott St., Batavia, on Saturday, December 11, 2021, from 9-9:30 am, followed by a Mass of Christian Burial which will begin at 9:30 am. Burial will be at a later date.
In lieu of flowers, memorials may be made to the family or Roswell Park Cancer Institute. 
Expressions of sympathy may be shared with the family at: www.mcandrewfuneralhomes.net.
ARRANGEMENTS WERE ETNRUSTED TO THE J. LEONARD McANDREW FUNERAL HOME, LLC, 2 BOGUE AVE., BATAVIA, NY 14020. RONALD KONIECZNY II, DIRECTOR.