November 21, 2021 - 1:40pm
George B. Parrish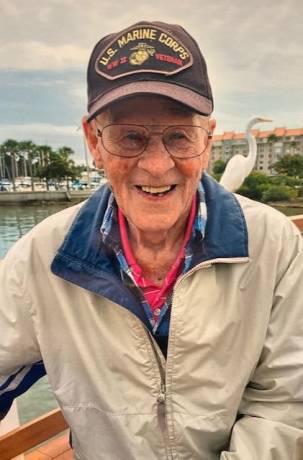 George B. Parrish, 96 of Alexander, passed away at the home he built on November 20, 2021, where he was cared for by his family and dear caregivers. Staff at UMMC and Premier Genesee also provided great care for George.
George's ancestors, some of the original pioneers who settled in Alexander, came from Randolph, VT in 1806. His ancestors were well known and prosperous dairy and grain farmers, on land they owned on Sandpit Road.
George grew up on the farm, helping his father with all of the farm work, milking cows and working in the fields. His farm was adjacent to the farm that the love of his life grew up on, Shirley J. Waite, whom he later married.
In July 1942, after George's 17th birthday, he went to Buffalo and enlisted in the United States Marine Corps. After basic training, he was stationed in Philadelphia, New Zealand, the Marshall Islands, and Guam. He was discharged in 1945. He returned to Alexander, a proud Marine and always proud of his service with the Corps. Semper Fi!
After coming home from active duty, he worked in his father's hardware store, worked in construction in the plumbing trade, and worked and retired as manager of Attica Super Duper in 1987. After that retirement, he went back into the plumbing trade, working with several local building contractors. His work was his hobby, up until he again retired at the age of 90.
George worked on each of his children's homes when being built, as well as the homes of many family members and people in the community. George volunteered with Habitat for Humanity, receiving the Golden Hammer Award for his 10 years of service working on their projects. He was a longtime member of Alexander United Methodist Church.
George was born in Alexander, on June 27, 1925, the son of George and Ruth Parrish. Besides his parents, he is predeceased by the love of his life, Shirley, who died February 16, 2019 and his sister Helen (Frank) Hampton. He is survived by his children, Laura (Joe) Schmieder of Alexander, Bob (Beth) Parrish of LeRoy, and Karen (Allan) Cecchini of Warsaw. Also surviving are grandchildren, Noel (Robyn) Good, Max Parrish, and Kate (Andy) Bogdan; two great-grandchildren, Nevan Good and Clara Bogdan; brother Arnold (Jane) Parrish, sisters Lois (late Charles) Newton and Delores (Brian) Martin; and many special nieces and nephews; and Darlene, his special caregiver.
Friends are invited to call on Tuesday, November 23, 2021 from 4 to 8 PM at Marley Funeral Home, LLC, 135 Main St, Attica, NY. An 11:00 AM Funeral Service will be held on Wednesday, November 24, 2021 at Alexander United Methodist Church, 10540 Main St, Alexander, NY 14005. He will be laid to rest in Forest Hill Cemetery.
Memorials may be made to the church; Habitat for Humanity, 230 Ellicott St, Batavia, NY 14020 or Alexander Ambulance Fund, PO Box 336, Alexander, NY 14005. For more information please call (585) 591-1212 or to leave a message of condolence visit www.marleyfuneralhome.com. Arrangements completed by Marley Funeral Home, LLC. 135 Main Street, Attica, New York 14011.