November 21, 2021 - 2:05pm
Harold C. Gould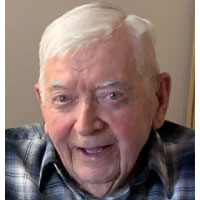 Harold C. Gould, age 93, of South Street Road Pavilion, passed away Tuesday, November 17, 2021, at Highland Hospital in Rochester.
Harold was born in Walton, New York, the son of the late Richard Leon Gould and Harriet Lucinda Inman Gould. He graduated from Walton High School and served honorably in the United States Army with the 31st Field Artillery Battalion during World War Two. Harold earned his B.S. in Agriculture form Cornell University. After college, he managed the GLF "Agway" in Wyoming. He and Rose resided in Pavilion since 1956, where they owned and operated HaR-GO Farm LLC, a dairy farm that the family continues to operate today. Harold served his community through Farm Bureau, Cooperative Extension, and Soil Conservation, as well as on Pavilion School Board for many years. He was also an active longtime member of the Mary Immaculate Parish in Pavilion. 

Harold was preceded in death by his beloved wife, Rose Marie Maimone Gould on September 21st 2019, whom he married on June 27th 1953. Survivors include his two sons; Charles Gould of Batavia, John (Susan) Gould of Pavilion, a daughter; Patricia (Richard) Merrill of Carlisle, PA, seven grandchildren, Kathleen (Bill) Zimmerman of Fairport, Michael (Theresa Brugarolas) Gould of Philadelphia, Stephen (Jill) Gould of Pavilion, Matthew (Melanie) Gould of Batavia, Daniel Merrill of Carlisle, PA, Sarah (Kevin) Finke of Manchester, MD, Elise Merrill of Bellefonte PA, six great-grandchildren, and several nieces and nephews. 

Friends of Harold "Mike" Gould may call on Monday, November 22nd, 2021 from 2- 4 and 7-9 pm at the Weeks Funeral Home 123 N. Main Street Warsaw, NY 14569. Please visit www.weeksfuneral.com to offer condolences. A mass of Christian Burial will be held 10am, Tuesday, November 23rd 2021 at the Saint Mary's Site of Mary Immaculate Parish in Pavilion. Burial will follow in the church cemetery. Memorial contributions are requested to the Pavilion Fire Company at PO Box 156 Pavilion, NY 14525.