November 22, 2021 - 2:50pm
Lucille Voss Brodie
posted by
LaVern Falcone
.
LeRoy ~ Lucille Voss Brodie, age 84, of Lake Street Road, passed away early Sunday morning (November 21, 2021) at home in the loving presence of her family.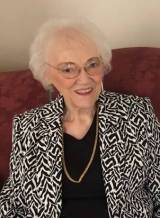 She was born July 9, 1937 in Short Tract, N.Y., a daughter of the late Harold and Marjorie Piatt Voss.
     Lucille will be remembered as a very loving wife, mother, grandmother, great-grandmother, sister and aunt, who was devoted to her family and her faith.  She was a lady of elegance and also took much pride in keeping her home the same, both inside and out.  She had a love for flower arranging and decorating. She was also a dedicated  member and volunteer at the Stone Church Presbyterian Church.
     She will be sadly missed by her children, Brian (Deborah) Brodie, Ashley Brodie (Madison, Ronan, Noah), Garrett Brodie, Marty (Laura) Brodie, Adam Brodie, Jordan Brodie, Darren (Angelina) Brodie (Josephine, Isla) and Beth (Brodie) Jamieson, Emily; sister, Bette Rees; sister-in-law, Marge Voss; brother-in-law, Louis Crocker, along with many nieces, nephews and dear friends.
     She was predeceased by her husband, Thomas Brodie in 2012 and her siblings, Helen Towne, Marion Schere, Jerry Voss, Lee Voss, Dick Voss and Ann Crocker.
     A Memorial Service for Lucille will be held on Sunday, December 5 at 12:45 PM at Stone Church Presbyterian Church.  Interment in Stone Church Cemetery will be private.
     In lieu of flowers, memorials may be made to Stone Church Presbyterian Church, 7549
S. Lake Road, Bergen, N.Y. 14416.
     Your memories and condolences may be shared with Lucille's family at www.falconefuneralhome.com.