November 26, 2021 - 11:43am
Marjorie Welch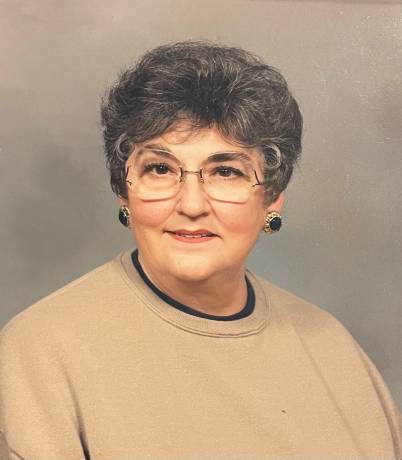 Marjorie Welch, 87, formerly of LeRoy and Shinglehouse, PA passed away on November 22, 2021. She was born on February 4, 1934 in Sharon Center, PA to the late John E. and Eveleen (Miller) McGuirl. In addition to her parents, Marjorie is predeceased by her loving husband; Robert Welch; son Michael Welch; brother Paul McGuirl.
Marjorie was a small town girl who had a larger than life personality. She attended school in a one room school house kitty corner to the house where she grew up and across the street from the land she would eventually build a house, raise a family, and grow old. She was a "tell it like it is" woman who was a whole cheering section all in one person. She celebrated each family members' every victory in life and even in defeat, picked them back up, dusted them off, and encouraged them to go back out there. Marjorie loved the color red, Patsy Cline, Kenny Rogers, sunflowers, orange juice, Jello Pudding Pops, M&Ms, singing, taking pictures, and so many other things that she shared and passed on to her grandkids. More than anything else in the world, she loved her family.

She is survived by her children; Timothy (Susan) of Stafford; Patricia (Michael) Bryant of Olean; daughter in law Cheryl Welch; sister Phyllis Stout; 8 grandchildren, Jamie (Amy) Welch, Timothy Welch II, Shannon, Carrie Welch, Reagan (Paulie) Viele, Mandy Welch, Meaghan (Nathan) Bell, Shaughn Bryant; 7 great-grandchildren Vivian, Keegan Welch, Preston, Domenic Viele, Nadia Welch, Jackson and Benjamin Bell; along with many nieces and nephews.

Friends are invited to call on Tuesday November 30, 2021 from 3:00-5:00PM at Gilmartin Funeral Home & Cremation Company, Inc. 329-333 West Main St. Batavia, NY 14020. A 5:00PM Funeral Service will immediately follow at the Funeral Home.
In lieu of flowers, memorials may be made to the Alzheimer's Association of WNY www.alz.org. 6215 Sheridan Dr. #100 Buffalo, NY 14221. To leave thoughts or condolences please visit www.gilmartinfuneralhome.com. Arrangements completed by Gilmartin Funeral Home & Cremation Company, Inc. 329-333 West Main Street Batavia, NY 14020.