December 9, 2021 - 8:58am
Dennis E. Sexton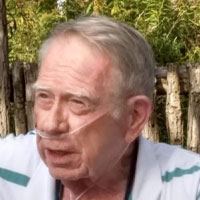 Mr. Dennis E. Sexton ("Nicho") of Batavia, NY passed peacefully on Monday, December 6, 2021, at Crossroads House comfort care home during his 78th year, in the company of those who loved him. He was born in Lancaster, NY on October 7, 1944. As a man who made deliberate choices along his path in life, he participated, along with the assistance of Crossroads House volunteers, in the writing of this remembrance while eating a coconut Popsicle. He also pre-arranged to have it published within three days of his passing.
"If you're reading this today, I've gone to the Great Beyond." A remarkable, well-traveled man who decided to go shopping for his "final home," Dennis visited Crossroads House in April of 2018 and was given a tour. "I didn't want to leave anyone with my final decisions," he explained. His desire was to live here when his time came, if at all possible. Three years later, it was possible. Having received his education in the Catholic School system, Dennis found himself called to a life of service to his fellow man. He would spend a year and a day employed by the Erie County Welfare Department, and when he realized "working there wasn't going to end poverty," he took a more personal, pro-active role in leaving things a little better than he found them. "People respond to kindness." On the advice of his uncle, he became a door-to-door salesman and helped young brides set up their homes with pots and pans and plates. Thereafter, he worked for General Electric and New York Life Insurance Company. After saving all his money, he eventually went into business as the owner/operator of a ski lodge in Ellicottville, NY. The Kelly House Lodge, a rambling Victorian, was his pride and joy for fourteen years.
His true calling came later when he began serving our local migrant workers through the Cornell Educational Program (now known as The Research Foundation of SUNY-Potsdam). When Dennis visited the refugee camps in Mexico his heart was burdened for those living in poverty. Through Save the Children he was able to work at a home for disabled children and intended to become an LPN so he could someday return there to be a caregiver. Unfortunately, he was a victim of gunfire in July of 1992 while on a humanitarian effort to deliver 9,000 used sweaters (collected from Buffalo area churches) intended for Guatemalan refugees. Medical issues changed his course.
Dennis would become known as that "pajama man" who accompanied migrant workers to the Batavia Tops and Walmart. ("They are the most comfortable pants I've ever known. I bought 11 pairs.") He was called into duty whenever a non-English-speaking husband needed a ride to the hospital because his wife had gone into labor, acted as translator at doctors' and dentists' offices, movie theaters, the DMV, and would be the teacher of how to get a money order at the local banks. This way of meeting people at their point of need and changing the world one life, one gesture, at a time created a well-lived life for Dennis.
Fond memories demonstrate how his adventurous spirit took him on hikes all over Europe. He once did a bike trip around Ireland, the British Isles, and Scotland. He also shared a cigarette break (though not more conversation than a sentence about the weather) with Her Majesty The Queen. Their paths crossed briefly under a bridge in Scotland on a summer day in 1984, when he was taking a train ride to Aberdeen. She had Gold Benson & Hedges, he, the Marlboro red box. She would be spotted walking about small towns from time to time, he says, wearing flat shoes and a scarf on her head. With security, she would travel in a wine-colored Rolls Royce, alone, she drove a little orange VW.
Looking back on his life, Dennis felt himself gifted to have lived so long. "I've had the opportunity to discover so many great people, many of whom are right here. If you want to find a wonderful place to end your days, this is the place."
Dennis is pre-deceased by his parents Michael and Ellen Sexton, and 2 brothers, Michael and Conal. He is survived by nieces, nephews and many cousins who reside in Ireland, Northern Ireland, Spain, England, and here in the U.S. Dennis was very grateful to two special friends, Leanne and Sandy, who assisted him in making his final plans. There will be no memorial service; however, arrangements have been made for his ashes to be taken to Dunquin Harbor on the Dingle Peninsula (off the coast of Ireland), by his cousin Paul. This was a peaceful place where Dennis would sit and watch herders bring their goats down from the mountain, while enjoying a loaf of bread and a wedge of cheese, quenching himself with a glass of Drambuie.
Resting comfortably in his sunny bedroom and thinking about the days to come, Dennis imagined seeing his Mother and her sister in heaven. They had very busy lives, having raised 10 children between them. He said that when he comes upon them, heads down and focused on reading the good books that they missed, they most likely will not look up. (He grins). As for himself, Dennis has said that he would like to pass through "the gates" at his former age of nineteen and have St. Peter hand him his backpack for his next adventure. Bon voyage, Dear Friend. Dennis has requested that memorials in his name be made to Crossroads House, 11 Liberty Street, PO Box 403, Batavia, NY 14021 or visit www.crossroadshouse.com.