December 9, 2021 - 2:33pm
David M. Miller
posted by
LaVern Falcone
.
David M. Miller, age 53, passed away at his home in the San Francisco Bay area on November 10, 2021, after a brief illness, with his best friend, Echebbers at his side.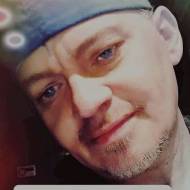 David was born May 2, 1968, in Batavia, NY, son of Rosemary (Paladino) Miller and the late David J. Miller.
     In addition to his mother, Rosemary, he is survived by sister, Michelle Miller (Matthew Betzler), brother, Greg (Peggy Forman) Miller, sister, Melissa (Jim) Lytle; grandmother, Victoria Paladino, Uncle, Paul Paladino, nephews, Jesse, Sam, Cody and niece, Emma, along with many aunts, uncles, cousins, and his extended family in California, especially Lexi, Justin, and Donald.
     After graduating from high school in LeRoy, he attended Brockport State College before deciding to move to San Francisco, where he had resided since 1991. In San Francisco, he participated in the 500 mile AIDS Ride for Life and fundraising for the National AIDS Memorial Grove in Golden Gate Park and was a caregiver to many.
     David loved his family, friends, and his dog (his rescued pitty, Echeb). He was kind, smart, funny and creative. His talent lives on in his many paintings, drawings and writings. He was also gifted in the kitchen and in decorating (in the house, the garden, or for the holidays). He gave a lot of himself to others and always tried to find the good in people. One of David's favorite sayings was "Carry out a random act of kindness, with no expectation of reward, safe in the knowledge that one day someone might do the same for you" (Princess Diana).
     Family and friends may call on Friday, January 7, 2022 from 3 ~ 5 PM at the Falcone Family Funeral & Cremation Service Inc., 8700 Lake St. Rd., LeRoy, where his Service of Remembrance will be held at 5 PM.
     In lieu of flowers, please consider making a donation, in his memory, to Rocket Dog Rescue, P.O. Box 460826, San Francisco, CA 94146 or www.rocketdogrescue.org/donate
     Your memories and condolences may be shared with David's family at www.falconefuneralhome.com.
     FACEMASKS WILL BE REQUIRED TO BE WORN AT ALL TIMES DURING DAVID'S VISITATION & SERVICE REGARDLESS OF VACCINATION STATUS.