December 20, 2021 - 1:50pm
James R. Reynolds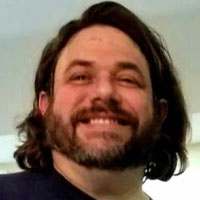 James Richard Reynolds, 51, of Lexington, KY, formerly of Attica, NY died December 18, 2021. He was born November 24, 1970, to the late Richard and Joan (Gerard) Reynolds.
James graduated from Attica Central School Class of '89, and later studied to become a Master Electrician in Lexington. He made friends with many, and will be remembered for his loyalty to those friends, his Winter Freeze-Out camping trips, assisted his sons Boy Scout Leaders with teaching First Aid and Cooking merit badge classes, his great cooking and organizing parties for whatever reason one was needed, and Crazy Coke nights at his house. He would fill a room with fun and laughter for all.

In addition to his father, he was predeceased by his brother, John (Rindy), Uncles Robert and Peter Reynolds, Aunt Jean Reynolds, and Cousin Susan (Bob) Neeley.
Survivors include his devoted companion Deana Ward, mother, Joan, his much loved sons, James and Charlie Reynolds all of Lexington, brother Joe Reynolds of Buffalo, NY, Uncle John Gerard of Paris, Aunt Bonnie Reynolds and cousins Jeff and Pete (Eva) Reynolds of Attica, cousin Shelagh (George) Cacioppo of Texas, and nieces Ashley (Hunt) Mason and Allisa (Brandon) Anguiano and nephew Drew Reynolds of Fort Mill, SC.
A later memorial will take place in Attica at the family's convenience. In lieu of flowers, memorials can be made to the family at 1293 Maywood Park, Lexington, KY 40517.