December 29, 2021 - 2:19pm
Marvin Wayne Levins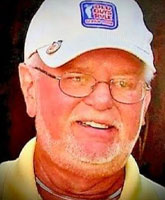 Marvin Wayne Levins (Batavia, NY) passed away peacefully on December 20, 2021 at age 84.
Predeceased by his parents Earl and Elva Levins and brother Paul Levins.Survived by loving wife Rubie (Weiler), daughters, Susan Levins, Michelle (Brian) DiFiore, and grandson Steven DiFiore.Siblings James Levins, Cynthia (Richard) Hillman, Rick (Lyra) Levins, In-laws Jean (Kevin) Ayers, Ronald (Sandra) Weiler and numerous nieces and nephews.
Service will be held Saturday January 8th , 2pm-4pm at Falvo Funeral Home located in Webster, NY Please visit www.falvofuneralhome.com for full obituary.