December 30, 2021 - 2:16pm
Rosemarie Moeller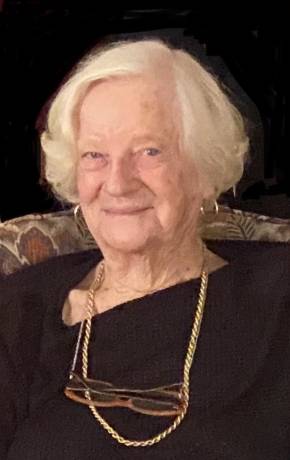 We're sad to share that Rosemarie "Rosl" "Rosie" Moeller, 94, of Attica passed away peacefully on Dec. 23, 2021 at her home surrounded by her family. However, sadness is not something one would have associated with Rosie; memories of her bring instant emotions of love, laughter, endless energy, and joy.  
Born on Nov. 9, 1927, Rosie had a full and vibrant life that included unique experiences, challenging hardships and remarkable journeys. Rosie met her husband Hans early in life in their hometown of Nuremberg, Germany where she worked as both a stenographer and our modern-day equivalent of a fitness class instructor. After losing everything in Germany as a result of WWII, Rosie married Hans and they began their adventure to America, the land of opportunity. With an invitation from a distant cousin, they came by ship in separate quarters arriving with a single trunk of belongings, the contents of which did not survive the journey.  
Being a non-native speaker in a new country came with its fair share of challenges, but Rosie worked hard at odd jobs to make ends meet while building her vocabulary and her community. Eventually, Hans and Rosie, with the support of the wonderful people of Attica, embarked on their next adventure - the opening of "Hans Moeller Jewelers."  Hans would tell you that his "Rosl" was the Boss, and she certainly was. She handled every aspect of the business from purchasing, sales, accounting, and of course managing her Star employee Hans, who never let her down.
Together Rosie and Hans started a family and raised their children while their business and circle of friends continued to grow and prosper. Through all they endured, Rosie lived a life of happiness, gratitude, and joy. She was a force of life entertaining all with her singing, jokes, parties, musical performances, and rum-filled cakes.  From her infamous New Year's gatherings to the ski slopes of Vail, wherever Rosie was, a "party" followed.
Rosie was a remarkable woman with a personality larger than can be conveyed through these words. She overcame adversity and filled her life with positivity that was passed down to her children, grandchildren, and all who were lucky enough to know her.  She is survived by her daughter Susan & Stephen Mazmanian, son Bob & Vicki Moeller, and grandchildren Erica Moeller and Rick & Emily Moeller.  
A special and heartfelt "thank you" to her phenomenal, loving caregivers and friends who were by her side on her last adventure.  We're forever grateful.
One of Rosie's favorite events was the annual Attica Germanfest where she would lead the yodeling, dancing, singing, eating and beer drinking.  We know she'd want us to share… "Don't eat the German sausage! Why, you ask? It's the WURST."
There will be no prior calling hours and Services will be held at a later date.
In lieu of flowers, donations can be made in her honor to make up for lost wurst sales to: Attica Lions Club / Ted Harding PO box 6, Attica 14011. To leave a message of condolence visit www.marleyfuneralhome.com. Arrangements completed by Marley Funeral Home, LLC. 135 Main Street, Attica, New York 14011.