January 1, 2022 - 6:23pm
Horace J. Lazarony Jr.
posted by
Ronald Konieczny
.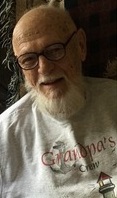 Horace J. Lazarony Jr., 90 of Batavia, passed away peacefully on Tuesday (December 28, 2021) at Premier Genesee Nursing and Rehabilitation Center.
He was born September 26, 1931 in Dunkirk, NY, a son of the late Horace J. Lazarony Sr. and Winifred Doyle Lazarony.
Horace was the owner for over 25 years of the former Kentucky Fried Chicken which was located on East Main St. in Batavia. He was an avid horseback trail rider and enjoyed camping. He loved his family and cherished time spent with the grandchildren and great-grandchildren.
Survivors include his children, David (Mary) Lazarony of PA, Jay (Donna) Lazarony of Batavia, Jerry Lazarony of Ohio, Ruth (Joe) Jensen of Avon and James (Diana) Lazarony of Corfu. Sister, Janet Lazarony of Florida. Also survived by 15 grandchildren, 20 great-grandchildren, 1 great-great-grandchild, nieces and nephews.
He was predeceased by his wife, Mary Jane Minich Lazarony. Brothers, Joseph Lazarony and John Lazarony.
Family and friends are cordially invited to share thoughts, condolences and fond memories on Monday (January 3rd) from 5-8pm at the J. Leonard McAndrew Funeral Home, LLC, 2 Bogue Ave., Batavia, NY. His Mass of Christian Burial will be Tuesday, 9:30am at Resurrection Parish, 303 East Main St., Batavia. Entombment will be in St. Joseph Cemetery.
Expressions of sympathy may be shared with the family at: www.mcandrewfuneralhomes.net.
ARRANGEMENTS WERE ENTRUSTED TO THE J. LEONARD McANDREW FUNERAL HOME, LLC, 2 BOGUE AVE., BATAVIA, NY 14020. RONALD KONIECZNY II, DIRECTOR.