January 7, 2022 - 6:06pm
Larry R. Frens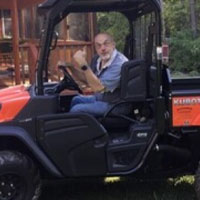 Larry R. Frens, age 69 of Wass Road Wyoming, passed away peacefully at home, Monday, January 3rd 2022, with his beloved wife at his side. Larry was born in Batavia, October 7, 1952 a son of the late LaMonte S. and Laura J. McCabe Frens. Larry graduated from Batavia High School in 1969 and went on to earn a degree from Genesee Community College. He worked for 32 years at the Oatka Milk Plant, in Batavia, as a machinist before retiring in 2014. Larry was an accomplished vegetable gardener and landscaper. He had volunteered gratefully and compassionately at the Wyoming County Animal Shelter before his illness. He would Winter over waiting for the sun to reappear so he could get back outside and tend to his garden. Larry was a hard dedicated worker, had an unbelievable  sense of humor and wit. He loved animals and was dedicated endlessly to his loving family. Being a Jets fan since the 1960's, he took a lot of mocking but Larry continued to remain true to his team through all of their ups and downs and miserable performances. He also loved his Buffalo Sabres and New York Yankees.
He was preceded in death by his three brothers; Lance, Robert and Norman "Gene" Frens and a sister Lana Mower.
Survivors include his beloved wife of 43 years, Kathy L. Bishop Frens, whom he married on February 11, 1978. Also surviving is his loving daughter; Rachel (Shawn Blanc) Frens of Warsaw, a loving brother; Lindsay (Carol) Frens of Elba, a loving sister; Pauline Walker of Batavia and numerous loving nieces and nephews who were all so very important to him
A private memorial will be held in Larry's honor at the convenience of the family. Weeks Funeral Home 123 N. Main Street Warsaw has arrangements. Please visit www.weeksfuneral.com to offer condolences. Memorial contributions are requested to the Wyoming County SPCA at PO Box 269 Attica, NY 14011.