January 14, 2022 - 2:26pm
Elwood L. Clark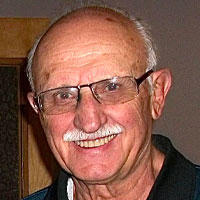 Lockport, NY - Elwood L Clark, 87, passed away Sunday, January 9, 2022.
Elwood was born and raised in Lockport the son of the late James and Edna (Brown) Clark.  
He resided in Corfu for 35 years, and Leisurewood Park, Akron, NY and Naples, FL later in life.  Elwood graduated from Alfred State in 1957. He married the love of his life Barbara Herzog in 1958 and enjoyed more than 61 years of marriage and five children. Barbara predeceased him in 2019.  He worked at Graham Mfg in Batavia as a mechanical engineer for more than 30 years.  He was a harness horse enthusiast, owner and trainer for about 40 years; owned St. Nick and 11 other horses.  He enjoyed social activities being with friends and family.  He was a competitive game player, especially with cards.  He especially loved watching sports and was a Buffalo Bills fan.
 
Survivors include: children Christopher Clark, Matthew Clark (Linda), Gregory Clark (Michelle), Elizabeth Weydig (Steven) and Aaron Clark (Corey); 12 grandchildren; 3 great grandchildren; 32 nieces and nephews; and special friend Sandra Truax Kinisky. Calling hours are Tuesday, January 18, from 6 to 9 p.m. at the C. B. Beach & Son Mortuary, Inc., 4 East Main Street, Corfu, NY.  A Celebratory Mass of Elwood's life is at 10 AM Wednesday, January 19, 2022 at St. Teresa Catholic Church 5771 Buell Street, Akron, NY with burial to follow at Cold Springs Cemetery, Lockport, NY.  In lieu of flowers, the family asks donations be made to Niagara Hospice in Elwood's memory.