March 5, 2022 - 12:54pm
Bernadette R. Mills
posted by
LaVern Falcone
.
Bernadette R. Mills, 76 of LeRoy, NY passed away on March 1, 2022 after an 8 month battle with Myelodysplastic Syndrome, a blood cancer.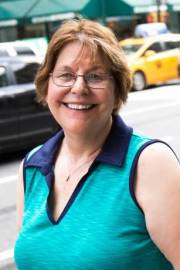 Bernadette was born on August 25,1945 to Mary and Constance Sawczyk in Niagara Falls, NY. After she graduated from Madonna High School in 1963, she went on to study at Niagara University graduating with a bachelor's degree in nursing. She had a 40 year career as a RN in hospitals, a professor at Genesee Community College, doctor's offices, and finally again at GCC where she ran the nursing lab, helping students master their nursing skills.
     Bernadette enjoyed helping people, reading, cooking and spending time with her family and friends.
     Bernadette is predeceased by her parents, Mary and Constance, her siblings, Sylvia Svitak, Elizabeth Sawczyk and Anthony Sawczyk, as well as her grandson, Zachary Frey and son-in-law, Todd Wojtalewski. She is survived by her husband, M. David Mills, her sister, Constance Molinaro, her daughter, Lauren Wojtalewski (fiancé, James), her step children, Sylvia Karn (Ronald), Lisa Frey (partner, Steve), Thomas Mills (Renee), and Jonathan Mills, as well as her grandchildren, Joshua, Benjamin, Alissa, Stacey, and Charles.
     Family and friends may call on Saturday, March 12 from 2 ~ 4 PM at the Falcone Family Funeral & Cremation Service Inc., 8700 Lake St. Rd. (Rt. 19), LeRoy, where her Service of Remembrance will be held at 4:00 PM.  Friends are invited to join the family for a reception at The LeRoyan at Mercy Grove, 7758 E Main St, LeRoy, NY 14482 immediately following services.
     In lieu of flowers, please make donations to the Golisano Children's Hospital, 300 East River Road, P.O. Box 278996, Rochester, NY 14627
     Your memories and condolences may be shared with Bernadette's family at www.falconefuneralhome.com.