March 7, 2022 - 3:44pm
John E. Novak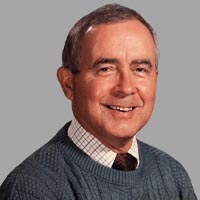 Today we express our sincerest condolences to the family, friends and students of John E. Novak, age 85, of Mansfield, who passed away peacefully on Thursday, March 3, 2022, at home with family by his side. Jack was a one-of-a-kind educator and mentor, who saw the potential in all of his students and strived to make school fun for his "kids." Full obituary and service details below:
John E. Novak, age 85, of Mansfield, passed away peacefully on Thursday, March 3, 2022, at home with family by his side. He married Jane (Glor) Novak on August 31, 1957, sharing nearly 65 years of marriage together. Born September 7, 1936, in Dannemora, NY, he was the son of the late Joseph and Dorothy (Evertts) Novak.
Enhancing the minds and spirits of every student he had was Jack's greatest passion throughout his entire life and career in education. He took great pride in every teaching position he held, beginning his career in Attica and Alexander, NY, then retiring as Principal from Warren L. Miller Elementary, after 27 years (1966-1993), and lastly, supervised student teachers for 10 years at Elmira College. Jack had a special heart and caring spirit, always helping others in need through actions such as continuously promoting and implementing advantages for students with disabilities before it was required. His Warren L. Miller "kids" were like his own, no matter how much time passed, he knew them all by name when seen in public and made them feel special. Jack's goal was to make school fun for his "kids" by supporting football Fridays, arts week, poster contests, plays, music events and assemblies. 
Jack obtained his education from the Attica High School, class of 1954, Brockport State College, where he earned his Bachelor's in Elementary Education, and Buffalo State, where he received his master's degree. He was a member of the First Presbyterian Church of Mansfield, Attica Masonic Lodge #462-F&A.M., Mansfield Rotary and Mansfield Men's Chorus. He also served on the Board of Directors for North Penn Comprehensive Health Services, First Citizens National Bank, Guthrie Healthcare, and the Green Home. A few other notable examples of Jack's incredible list of community service and involvement would include serving on the Girl Scouts Council, as member of both the Helen Lutes Foundation and Marsha K. Mase Foundation and co-directing the Mansfield University gifted camp for several years, alongside Dr. John Heaps. Jack was also recognized as the 1995 Mansfield Citizen of the Year and inducted into the Attica Central School Hall of Fame in 2012.
Above all, Jack's loving wife, Jane, and entire family were most important to him, whether he was fossil hunting with his kids, trout fishing in Asaph, spending time at Waneta Lake or hosting an outing at Buckhorn Camp in the Adirondacks. Additionally, he had a hobby of writing books about his family and friends, and the expeditions they took together. In recent years, he has been interested in his family's genealogy and has done a respectable job in that research, with assistance from his family. Jack's one-of-a-kind spirit, based in education and generosity, will be dearly missed by all who knew him.
Left to cherish his memory are his wife, Jane G. Novak; daughters, Jill Wood (John Jasensky), Jody (Doug) Thomas, Jenny (Lynn) Kilmer; grandchildren, Heather (Dan) Ream, Chris (Amy) Wood, Tyler Wood (Hazel Cummings), Laura (Luke) Straniere, Erin (Andy) Trant, Kreslynn Kilmer, and Kaelynn Kilmer; great grandchildren, Emma, Aidan, Colton, Levi, Cole, Barrett, Cory, Avery, Allie, Wyatt and Jack; sister, JoAnn (Roger) Triftshauser; several nieces & nephews; and many dear friends.
In addition to his parents, Jack was preceded in death by his brother and sister-in-law, Howard and Deborah Novak; in-laws, Ellie & Elaine Glor, Catherine & Thomas Hare, Lester Glor, and Brenda Gassman; father-in-law and mother-in-law, Maynard & Marjorie Glor.
In lieu of flowers, the family asks you to consider supporting Jack's love of community service by donating to the John E. Novak Scholarship Fund at First Citizens Community Bank, 15 S. Main St., Mansfield, PA 16933.
Family and friend are invited to pay their respects on Thursday, March 10, 2022, from 3 p.m. until 6 p.m., at Wilston Funeral Home, 130 S. Main St., Mansfield, PA 16933. Jack's memorial service will be held privately at the convenience of his family, and a celebration of his life may be held and announced at a later date, www.wilstonfh.com.