March 11, 2022 - 10:13pm
Ruth Frances (Scheider) Gear
posted by
Ronald Konieczny
.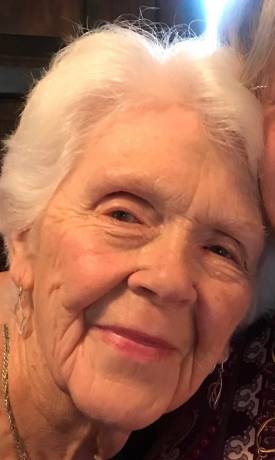 Ruth Frances (Scheider) Gear died in her sleep, in hospital, at 9:11 PM March 10, 2022. She was born to Teresa (Mullady) Scheider and David Joseph Scheider in Brooklyn, New York, July 28, 1922. Her father transferred to Batavia, New York, in 1926, to manage the Doehler Jarvis factory, where Ruth grew up and made her home.
She married Bill Gear, who played semi pro football for the Essos, in 1943. A Marine, he served in the Pacific theater and earned two purple hearts and several medals, returning home in 1946. They raised seven children. Preceding her in death were sons David and Joseph. She is survived by Therese, Bill, Maria, John, and Kevin. Dozens of cousins, nieces, nephews, and grandchildren join with her many friends in celebrating her life.
Ruth's strong Catholic faith was central to her life, and she treasured her membership at Holy Name of Mary in East Pembroke, NY, where her brother Father David Scheider served as pastor for many years. Ruth also was an important part of Notre Dame High School. She loved and was loved by the Notre Dame students and community. She taught many people in Batavia how to type and was selected to participate in developing curricula with the State of New York Board of Regents. She was a founding parent of Genesee ARC, now Genesee-Orleans ARC.
Ruth loved God and family. She was never happier than when she had 30 or more family members in her home to celebrate. She was an avid gardener. Sometimes, even in her late nineties, as she embraced the earth, tending her front yard, people would stop and offer to help her - Until they saw the delighted expression on her face and understood that this lady was immersed in what she loved. She was an avid reader. 
She has joined her husband Bill, brother David, sisters Teresa (Scheider) Lenihan, Loretta (Scheider) Judd, and Joan (Scheider) Mooney, along with sons David and Joseph in heaven.
Her surviving family ask her friends to join in celebrating her life at Mass at St. Maximilian Kolbe Church in East Pembroke, Friday, March 18, at 11 am.
Memorials will be gratefully accepted at two institutions dear to her, Notre Dame High School and Genesee Orleans ARC. As Ruth often said, "Everything is a gift." Expressions of sympathy may be shared with her family at: www.mcandrewfuneralhomes.net.
ARRANGEMENTS WERE ENTRUSTED TO THE J. LEONARD McANDREW FUNERAL HOME, LLC, 2 BOGUE AVE., BATAVIA, NY 14020. RONALD KONIECZNY II, DIRECTOR.