March 14, 2022 - 9:07am
Mrs. Helen Thornell Partridge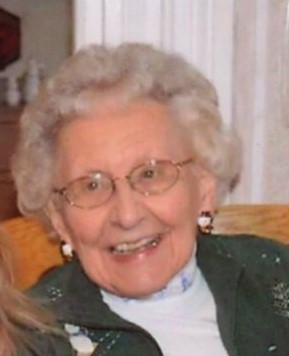 Batavia – Mrs. Helen Thornell Partridge, age 95, of Batavia passed away on Thursday, March 10, 2021 at the LeRoy Village Green Nursing Home surrounded by her loving family.
She was born in Batavia on May 25, 1926 a daughter of the late Charles W. Thornell and Florence Leanen Thornell.
A 1943 graduate of South Byron High School, she graduated from the Buffalo State Teacher's College in 1947 and taught home economics in the Oakfield-Alabama School District. A member of the Morganville United Church of Christ since 1952, she taught Sunday school for several years at the church. Helen served for two terms on the 4-H Home Economics Board, the Farm Bureau Women's Board and served as clerk and secretary for the Morganville Tandem Class. A member of the "Daffy Damsels", a group through the Farm Bureau, she served as treasurer of the Red Hats Society, was a member and secretary for the Stafford Historical Society and served on the planning committee for the first 4-H walk-a-thon.
She married Lewis Partridge, Jr. on August 20, 1948 and celebrated 68 years of marriage until his passing on December 14, 2016.
She is survived by her three children, Donald (Patricia) Partridge, Kevin Partridge and Kathy (Jeff) Thompson; seven grandchildren; thirteen great-grandchildren; her sister, Marian T. Partridge; her sister-in-law, Joyce (Richard) Glazier and numerous nieces, nephews, great-nieces and great nephews.
Friends may call on Saturday, March 19, 2022 from 10 am to 11 am at the Morganville United Church of Christ, 8466 Morganville Road, Stafford. Funeral services will immediately follow visitation at 11 am at the church. She will be laid to rest in Grand View Cemetery, Batavia. In lieu of flowers, please consider memorials in Helen's name to the Morganville United Church of Christ, 8466 Morganville Road, Stafford, New York 14143. To leave a condolence, share a story or light a candle in Helen's memory, please visit www.bataviafuneralhomes.com.
Arrangements have been entrusted to the H.E. Turner & Co. Funeral Home, 403 East Main Street, Batavia.