March 21, 2022 - 4:11pm
Mary C. VanAlstyne
posted by
Ronald Konieczny
.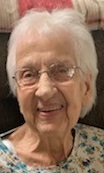 Mary C. VanAlstyne, 100 of Batavia, passed away peacefully on Friday (March 18, 2022) at her residence.
She was born in De Funiak Springs, Florida on June 12, 1921, a daughter of the late Maxwell and Edith Gray Calhoun.
She was predeceased by her husband Raymond VanAlstyne, who died March 12, 2000. Sister of the late Arthur Calhoun and Alleda Skinner.
Mary was a 1939 graduate of Corfu High School and then went on to graduate from the Rochester Business Institute. She was employed by the Genesee County Welfare Office and Genesee County Auto Bureau, Eaton Yale and Towne and finally Genesee Community College where she would eventually retire from. While at Eaton, she served as Editor of "Trojan News Letter" which led to association with the Niagara Frontier Editors Association as Secretary and President. She also served as District Vice President of the American Association of Industrial Editors. Mary received national recognition from this organization for year round support of "The United Fund", leading to her induction in the 1972 edition of "Who's Who of American Women". She was one of the original members of The Genesee Area Genealogists Organization and a member of the First Presbyterian Church of Batavia.
Survivors include daughters, Dorine (Russell) Morgan of Denver, CO and Barbara (Thomas) Mruczek of Batavia. Son, Robert VanAlstyne of Batavia. Grandchildren, Derek (Nicole) Morgan, Keith (Phillina) Morgan, Eric (Katie) Mruczek, Stephanie Mruczek and Alexandra Mruczek. Also survived by six great-grandchildren and four great-great-grandchildren.
Family and friends are cordially invited to share thoughts, condolences and fond memories on Saturday (March 26th) from 2-5pm at the J. LEONARD McANDREW FUNERAL HOME, LLC, 2 BOGUE AVE., BATAVIA, NY,  where a funeral service will commence at the conclusion of visitation at 5pm.
She will be laid to rest next to her husband in Grandview Cemetery
Memorial contributions may be offered to the Richmond Memorial Library. Expression of sympathy may be shared with the family at: www.mcandrewfuneralhomes.net.
ARRANGEMENTS WERE ENTRUSTED TO THE J. LEONARD McANDREW FUNERAL HOME, LLC, 2 BOGUE AVE., BATAVIA, NY 14020. RONALD KONIECZNY II, DIRECTOR.