April 8, 2022 - 11:13am
Harold "Harley" Harloff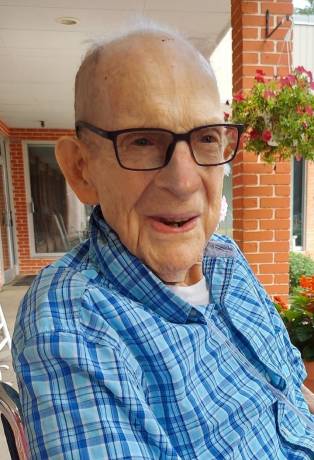 His goal was to make everyone smile, and "to just be happy."
Harold "Harley" Harloff reunited with his wife in Heaven on Thursday, April  7, 2022.  He had celebrated his 97th birthday on March 1st with his family at his adopted home - Village Green Nursing Facility in LeRoy.
Harley had a unique way of "telling it like it is" without offending, and always with a smile.  He attended Lycoming College in Pennsylvania to become a preacher.  He transferred to Syracuse University to continue his studies; however, he lost his brother in World War II and came back to Batavia to operate the family farm with his father Bert and mother Annabelle.  Harley was very well known in the cabbage world and often visited the Fresh Express headquarters in Florida.  He also had side jobs, selling propane gas with his buddy Glen Lambein and an outdoor paint product plus a logging business.  Harley was a good provider for his family and a strong man of faith.  He sold the family farm to his friends at My T Acres when he was diagnosed with prostate cancer and his son Gregg and grandson Stephen continue his legacy with the Call family today.  After recovery, he began a Lincoln Log business with his son Doug and enjoyed meeting people at the New York State Fair and throughout the region. 
Harley was a strong man of faith, and raised his family with integrity and Christian values.
Harley was active in the Batavia Sertoma Club, and fondly remembered the hours spent at the ice skating rink they created in a parking lot at John Kennedy School in Batavia.  He also was instrumental in the building of the First United Methodist Church building on Lewiston Road as a church Trustee, and volunteered with the youth to paint the inside of the building and mission work by harvesting squash to give to local food banks.  Harley was also active on the Grandview Cemetary Board of Directors and was often found supervising the grounds upkeep on the Clinton Street site, and volunteering to mow the lawn at the Methodist church Lewiston Road location.  His friend Dick Siebert tapped him to become a Genesee County Elections commissioner in the early 2000s, which he thoroughly enjoyed.  It was his way to give back to the community that had given him so much.  In the later years, Harley enjoyed his Saturday morning "Barber Conable" coffee meetings with the boys and appreciated their friendship.
Harley was a wonderful caregiver to the love of his life Jean Harloff.  He supported her as a schoolteacher and mentor to so many children in the Batavia area during her 37 ½ years in education, and cared for her in her final years.  Harley sold his home and move into Washington Towers, where he made many friends and enjoyed giving managers Vicki and Valerie a "hard time".  Ill health forced Harley to move to LeRoy Village Green in May 2021 and he was given the dignity and care he deserved and needed. 
Harold Harloff is survived by his children, Gregg (Susan) Harloff of Batavia, Marilyn (Todd) Helming of Amherst and Douglas (Judy) Harloff of Oakfield.  Grandchildren Stephen (Luis), Harloff , Geoffrey Harloff and Erika (Robert) Waver, Katie (Matt) McCracken of Batavia, Joshua (Katie) Harloff of Oakfield, Emily (Adam) Drilling Weed of Orlando, FL, and Kristen Drilling of Batavia, also 7 great grandchildren, nieces and nephews. He is survived by his sister Marjorie Long of Batavia and dear friend Beverly Gerkin and her daughter Dawn   His brother Donald and sister Ruth Higley Weber predeceased Harold.  His beloved wife Jean Harloff passed on April 9, 2009.  Sister in law Marjorie Harrower Spaulding, and brother in law Robert and Carol Harrower have predeceased Harley.
The family is very grateful for the patience and care given to Harley at the Village Green.
Calling hours are planned for Wednesday, April 13, 2022 from 1:00 – 2:30PM at Gilmartin Funeral Home & Cremation Company, Inc. 329-333 West Main Street Batavia, New York 14020.  A 2:45PM Celebration of Life Service will follow visitation at the Funeral Home.  Interment will be in Grandview Cemetery. 
Memorials may be made to the LeRoy Village Green Activities Program for their religious program 10 Munson St. LeRoy, NY 14482. To leave a message of condolence please visit www.gilmartinfuneralhome.com. Arrangements completed by Gilmartin Funeral Home & Cremation Company, Inc., 329-333 West Main Street, Batavia, New York 14020