April 14, 2022 - 11:42am
Amy Houseknecht Ramadan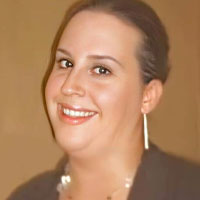 Amy Houseknecht Ramadan, of Wilson, North Carolina, formerly of Batavia, New York
On March 30th, 2022, Amy took her last breath after bravely and courageously fighting breast cancer for more than 5 years.
Loving daughter, sister, wife, mother, aunt, and a great friend to many, Amy owned Mama Mia's restaurant in Wilson, North Carolina with her husband and brother-in-law. Amy loved being a mother more than anything else, she was an excellent cook, and her passion was baking. She had plans to open her own bakery and to publish a cookbook. She enjoyed baking cakes for friends and family, reading, trips to the beach, traveling, coffee dates with friends, and anything related to sea turtles. To know her was to love her, and Amy's final gift was the gift of sight- through organ donation, she was able to help two other people.
Amy is pre-deceased by grandparents Joshua and Ruth Houseknecht, Ronald Charles, and great aunt June Wolcott who was a third grandma to the Houseknecht girls.
Amy is survived by her parents Robert and Pamela Houseknecht, grandmother Gloria Charles, sisters Katie Ferguson and Jenna (Ben) Cossitt, loving husband of 20 years Hosam Ramadan, and two amazing sons, Adam and Zacheria Ramadan, mother-in-law Ekram Ramadan, brother-in-law Ahmad (Taiseer) Ramadan, nieces Eliana Cossitt and Malak Ramadan, nephew Yassin Ramadan, and many close friends in Batavia and Wilson.
A Celebration of Life will be held on April 30th, 2022 at Akron First United Methodist Church, 7 Church St, Akron, NY 14001, at 12 p.m. Please wear a bright color to honor Amy's colorful spirit.
Memorials can be made to Pennies from Angels, P.O. Box 511, Black Creek, NC 27813, Crossroads House, 11 Liberty St, Batavia, NY 14020 or made out to the family to help with final expenses/the boys' education.
"In a world where you can be anything, be kind."