April 14, 2022 - 11:53am
Ethyl I. Sojda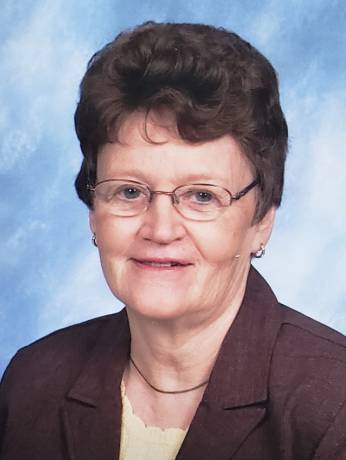 Ethyl I. Sojda, age 84, of Creek Rd, Batavia, NY, passed away peacefully at home surrounded by family on April 8th, 2022. Ethyl was born in Batavia as the only daughter of the late Vincent N. and Ruth M. Kirch.  She was a life-long resident of Alexander, NY.
After graduating from Alexander Central School, she held various jobs until she married her late husband, John F. Sojda, Jr. in 1961 and raised three children.  As a dedicated mother she could be seen braving any weather to watch her children's sporting events.  She returned to work in 1977 and held a number of positions with local companies over the following thirty years.  In her last role she was a Loose Ends hostess managing the GCC cafeteria where many folks came to enjoy her kind and pleasant personality and her dedicated work ethic.
Though a long-time crocheter, later in life she became a serious quilter and active in the Batavia Museum Quilt Guild.  She produced a number of quilts for family and friends that are still enjoyed daily.
For a number of years, she was also a volunteer with All Babies Cherished.  It was not uncommon to see her with her knitting material creating baby hats for the regional hospital system. For many years she was an assistant to John Sojda, Jr. in his role as Alexander Town Justice.  Part of her charm and grace was how resiliently and quietly she met life's challenges—both her own and those of others who knew her.
Ethyl is survived by her sons John and Steve (Barb), her daughter Ann, five grandchildren; Lily Whisman, Jacob (Paige), Stephanie (Patrick) Guarino, Michelle (Andrew) James , and Angela (Martin) Pohl,  great-grandchildren; Ezekiel Guarino, Emily and Eli James, Alex, and Maria Pohl.  She was preceded by her brother Merlin Kirch and has 4 surviving brothers (Ralph, Arnold, Harold, and Myron), and many nieces and nephews.
There will be no prior calling hours and Funeral Services will be held at a later date.
In lieu of flowers, donations can be made to the Alexander Rescue Squad PO Box 336 Alexander, NY 14005 or Homecare & Hospice 29 Liberty St. Suite 6 Batavia, NY 14020. For more information please call (585) 591-1212 or to leave a message of condolence visit www.marleyfuneralhome.com. Arrangements completed by Marley Funeral Home, LLC, 135 Main Street, Attica, NY 14011