April 14, 2022 - 7:13pm
Diane vonBergen Frawley
posted by
Howard B. Owens
.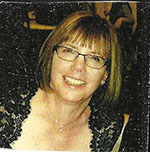 Diane vonBergen Frawley of Clifton Park, NY, passed away April 8, 2022, at Delmar Center for Rehab and Nursing in Delmar, NY. Diane was born June 30, 1955, in Callicoon, NY, and is the daughter of Richard and Shirley vonBergen of Byron, NY.
She graduated from Byron-Bergen High School in 1973 and Oswego State in 1977. Diane worked at the New York State Credit Union Association in Albany. 
Diane is survived by Robert Frawley, her husband of 43 years, son Joseph Frawley, of Woonsocket, Rhode Island, daughter Pamela (Jason) Rathbun, of Waterford, NY, brother Daniel vonBergen (Cathie), sister Sherri (Paul) Nilsen, and her parents.
After retiring, Diane and Bob spent part of the year at the Villages in Florida where they own a home. Many happy hours were spent on the golf courses with friends. Diane enjoyed trying new recipes, reading, exercise, and her family. She will be greatly missed by her family and those who knew her well.
Arrangements are being made by the family. In lieu of flowers, memorials in Diane's name by made to the Dana-Farber Cancer Institute, P.O. Box 849168, Boston, Mass. 002284