April 20, 2022 - 2:31pm
Jill Elizabeth Spence
posted by
LaVern Falcone
.
E. Bethany ~ Jill Elizabeth Spence, DOB: August 20th, 1973, passed away unexpectedly on April 16th, 2022.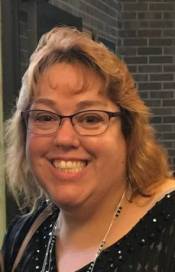 Jill is predeceased by, her nephew, Nathaniel Spence, Father, Jefry M Spence, Mother, Jean Donna (Solian) Spence, and Brother, Jefry M. Spence Jr. She is survived by Brother, Edward J. (Wendy) Spence, her boyfriend, James Brough, nieces, Brittany N. Spence, Alyssa R. (John Unger) Franks, Katie Spence, Eryn Spence, Nephew, Bobby (Jenn) Morehead, great-nieces, Danielle Morehead, Taylor Morehead, Great-nephew, Jackson Spence, and sister-in-law, Susan (Ingalls) Spence. She had many aunts, uncles and close cousins. 
     Jill had the nickname Boona as a child and teen years growing up. When she was 2, all she could do was point and say Boona, Boona, Boona, there are a lot of fond memories that were from her childhood.  Her family moved quite a bit while growing up and went to thirteen different schools along, with her brothers Ed, Jefry (Mick) making their own gang. All her extra time was spent with her nieces and great-nephew, spoiling them and taking them for ice cream. She traveled quite a bit with Jim, her boyfriend, and his boys, all over the U.S.  She had many friends and co-workers that she loved. She got along with everyone; she just had that great personality that everyone loved. She loved to knit and buy gifts for everyone. Her favorite thing to do was Amazon. She had two monitors at work, one screen was work, while the other was Amazon, trying to talk her co-workers into deals she'd found and trying to pool their money for even bigger savings. Every year she would bake for her family. During the opening weekend of hunting season, she would cook breakfast for the family while they went hunting. She was immensely proud of her family and let everyone know about it. She will be sadly missed by all. Jill leaves a big shoe print to fill with her passing. She was a wonderful human being. 
     Family and friends may call on Saturday, April 23 from 11 AM ~ 2 PM at the Falcone Family Funeral & Cremation Service Inc., 8700 Lake St. Rd. (Rt. 19), LeRoy.
     In lieu of flowers, please give donations to Jack and Eryn Spence for their college fund, c/o Edward Spence, 6835 Knowlesville Rd, Oakfield, NY 14125.
     Your memories and condolences may be shared with Jill's family at www.falconefuneralhome.com.