April 22, 2022 - 2:30pm
Edward D. McDonald
posted by
LaVern Falcone
.
Mr. Edward D. McDonald Sr., 92, of LeRoy, an amazing husband, father, grandfather and great grandfather, died Easter Sunday (April 17, 2022) at East Side Nursing Home in Warsaw, NY, surrounded by family.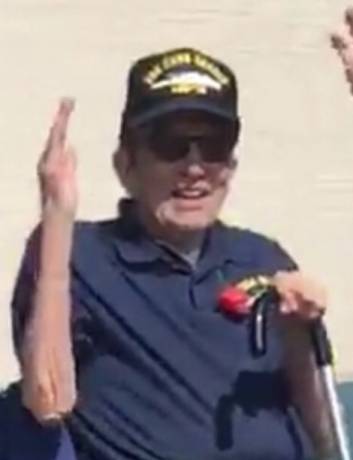 Ed was born October 19, 1929, the son of the late Louis and Hazel (Pratt) McDonald. He was educated at St. Peter's School, LeRoy High School (1947) and St. Bonaventure (1951) with a B.A.
     Ed served in the US Navy from 1951 to 1956 and completed his commission as Lieutenant Junior Grade. He served in the Korean War on the USS Casagrande.
     He worked at Lapp, Eaton Yale, Timberjack (Woodstock, Ont.) and Saban until his retirement.
     Ed was a proud LeRoyan, serving as a trustee on the village board, the Jaycees, Boy Scouts and as head of Pop Warner football.
     He was predeceased by his wife of 48 years, Barbara (Lathan) in 2008 and his grandson, Justin McDonald. He is survived by daughter, Margaret "Meg" (Bill) Wallace and sons, Daniel (Valerie), Paul (Kimberley), Edward Jr. (Samantha) and Michael (Chantal).
     Proud grandfather to Adam (Catherine) and Brent Wallace, Jordan and Sean McDonald, Jade (Colin Carrick) McDonald, Edward III, Zachary, Cory, Tyler (Stephanie), Dylan (Shania), Jasmyne (Randy) McDonnell, Amanda (Donovan) Mulligan and Michael McDonald, and great-grandchildren, Beau, Beck, Carson, Harrison, Paytine, Clarke, Hendrik and Simon.
     Special thanks to the kind and compassionate care over the past two years to Samantha Koons, Molly (Lathan) Peet, Jim and Michele Bonacquisti, Diane Jasczcz and the staff at East Side Nursing Home.
     In lieu of flowers, donations can be made to the Genesee County Office for the Aging and Batavia Veterans Administration.
     Family and friends are invited to Ed's Rite of Christian Burial to be held on Saturday, June 25 at 11:00 AM at Our Lady of Mercy Parish, St. Peter's Church, 44 Lake St., LeRoy.  Interment in St. Michael's Cemetery, Warsaw will be private.
     Your memories and condolences may be shared with Ed's family at www.falconefuneralhome.com.