May 3, 2022 - 3:09pm
Robert F. "Sully" Sullivan
posted by
LaVern Falcone
.
LeRoy ~ Robert "Sully" Sullivan, age 89, of Thwing Road, passed away Monday morning (May 2, 2022) at Strong Memorial Hospital surrounded by his loving family.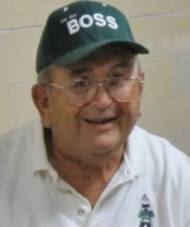 He was born March 5, 1933 in Batavia, a son of the late Edward and Mary Wallace Sullivan.
     Bob was a graduate of Batavia High School class of 1950 and SUNY Brockport.  He then served his country with the U.S. Air Force before beginning his 27 year career as a teacher with the LeRoy Central School District.  He was involved as a coach and member with the LeRoy football programs for 54 years and became a member of the Section V Football Hall of Fame in 2013.
     He was very involved in his community and had many accomplishments along the way which included being the longtime director of both St. Joes Drum & Bugle Corp and Mighty St. Joes Alumni Corps and Drum Corps Associates (DCA) Hall of Fame; he was a former Geneseean of the Year in 1999; a former Rotarian and Paul Harris Fellow; he served as a LeRoy Village Trustee for 9 years, Village Justice and also as a LeRoy School board member.  Bob was also a member of the LeRoy Fire Dept, a longtime proud member of the LeRoy Moose and was a member of the Batavia High School Music Hall of Fame, having been inducted in 2019.
     He is survived by his loving wife of 35 years, Grace Symonds Sullivan; his children, Michael (Mary Ann) Sullivan, Steven (Dawn) Sullivan, Kelly (Steven) Cappotelli, Matt (Linda Styer) Sullivan, Meg (David Cox) Sullivan; 15 grandchildren and 5 great-grandchildren.
     In addition to his parents, he was predeceased by his sisters, Mary and Marguerite and his brother and sister-in-law, Edward and Lorraine.
     Family and friends may call on Thursday, May 5 from 4 ~ 8 PM at the Falcone Family Funeral & Cremation Service Inc., 8700 Lake St. Rd., LeRoy, where services will be held on Friday at 11:00 AM.  Interment in the Western NY National Cemetery will be private.
     A LeRoy High School scholarship will be established in Sully's honor.  In lieu of flowers,  donations can be sent to Le Roy Central School, c/o Robert F. .Sullivan Memorial Scholarship,  2-6 Trigon Park, Le Roy, NY 14482.
     Your memories and condolences may be shared with Bob's family at www.falconefuneralhome.com.