May 9, 2022 - 3:57pm
Peter L. Bartz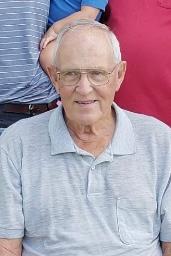 Peter L. Bartz, 90 of Alexander, passed away on Friday, May 6, 2022 at Buffalo General Hospital. He was born December 26, 1931 in Alexander, to the late Alfred and Mary (Geitner) Bartz. He is preceded in death by his beloved wife, Clarice W. (Mower) Bartz, sister and brother-in-law, Catherine (Roger) Timm, son-in-law Hugh Graff.
Mr. Bartz was a longtime member of Sts. Joachim & Anne Parish in Attica. He began working on his uncles farm before going to Attica Lumber, he then retired as Head Janitor for Alexander Elementary School. Mr. Bartz was a very talented carpenter, he did electrical and plumbing as well. He enjoyed golfing, bowling, hunting and fishing.
He is survived by his children, Paul (Janice) of Rochester, Daniel (Patricia) of E. Bethany, Steven (Della) Bartz of Byron, Barbara Graff of Corfu; siblings, Mary Ann (Richard) Scharlau of Alexander, David (Sherry) Bartz of Honeoye; 8 grandchildren, 13 great-grandchildren, along with several nieces and nephews.
Friends are invited to call on Thursday, May 12, 2022 from 4 to 7 pm at Marley Funeral Home, LLC 135 Main Street, Attica, NY 14011. An 11:00 am Mass of Christian Burial will be held on Friday, May 13, 2022 at Sts. Joachim & Anne Parish, 50 East Ave., Attica, NY 14011. He will be laid to rest in St. Vincent's Cemetery, Attica.
In lieu of flowers, memorials may be made to Alzheimer's Association at www.alz.org. To leave a message of condolence visit www.marleyfuneralhome.com. Arrangements completed by Marley Funeral Home, LLC, 135 Main Street, Attica, New York 14011.