May 23, 2022 - 9:24am
Lars B. Walker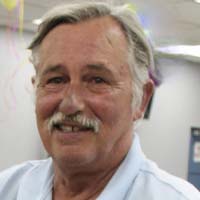 Lars B. Walker, 64, passed away suddenly, Saturday, May 7, 2022.
Lars was born on June 10, 1957, in Batavia, NY to the late Edward and Janice (Huth) Walker. He was the brother of the late Loren, Kim and Kathleen Walker. 
Lars is survived by his loving companion, Bonnie Swimline; his children, Courtney (Kevin Feran) Walker and Brett (Randee) Walker; granddaughter, Llewyn S. Walker; sisters, Cheryl Walker and Connie (Peter) Balon. Lars is also survived by several nieces, one nephew, great nieces, nephew and cousins.
Lars worked at Heil Industries for many years. He was a retired welder. Lars enjoyed fishing and gardening.
A memorial service will be held at the convenience of the family. Arrangements were made by C. B. Beach & Son Mortuary, Inc., Corfu, NY.