May 23, 2022 - 12:14pm
Jack Edward Housenger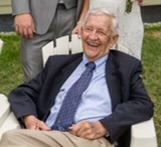 Jack Edward Housenger, longtime resident of Batavia, passed away Friday, May 20th at the Lower Cape Fear LifeCare Center in Bolivia, NC, after a brief illness.  He was 92.
He was born April 18, 1930 in Batavia and lived there for most of his life with his beloved wife of nearly 60 years, the late Verna Mae (Smith) Housenger, who passed away from M.S. in 2009 following many years of Jack's faithful care.   
He is survived by his devoted children, daughter Vicki (John) Morrison, and son Jack (Jody) Housenger, both of Southport, NC.  He also leaves behind three grandsons, Matthew Morrison of Russellville, KY, Justin (Theresa) Housenger of Centreville, VA, and Alex (Chloe) Housenger of Milton, VT, as well as two great-grandchildren, Sarah and Joseph Housenger, who all adored their Gramps and Great-gramps.  He is predeceased by his brother, Robert E. Housenger, who resided in Ocala, Florida until his death in 2019.  
Jack served as the manager of the City of Batavia Water Department until his retirement.  He loved to hunt and fish, and his greatest joys were sitting in a boat on Canada's Rideau Lake trolling for walleye, or outsmarting a wild turkey in a hunt.  In recent years, he relocated to North Carolina to be closer to his children.
Friends are invited to pay their respects at the H. E. Turner Funeral Home in Batavia on Thursday, May 26th.  Viewing hours are from 2:00-4:00 p.m., with a brief memorial service at 4:00 p.m.  In lieu of flowers, the family respectfully requests contributions to the National Multiple Sclerosis Society (nationalmssociety.org) in his memory.
Please leave a condolence, share a story or light a candle at www.bataviafuneralhomes.com.