June 2, 2022 - 12:05pm
Sergio A. "Sarge" Forte
posted by
LaVern Falcone
.
LeRoy ~ Sergio A. Forte Jr., age 56, of Myrtle Street, passed away at home unexpectedly on Monday (May 30, 2022).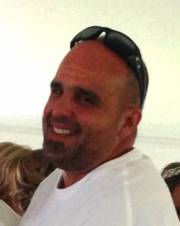 He was born January 24, 1966 in Batavia, a son of Margaret Corcimiglia Schepler and the late Sergio A. Forte Sr.
     He was raised with the belief that he held strong in his heart for Jehovah.
     Sarge worked with his dad, Sergio Sr., in the family marble & granite business until his father passed away in 2016.  He then went on to work for himself and was always ready to help anyone that needed it.
     Sarge was not only known for his big heart, but his laughter was contagious.  His love for his family was immeasurable as much as his love for life.
     He was an avid hunter, fisher and gatherer.  Once you met Sarge, you were instantly friends, even if it were for a brief moment, you were his friend for life.  No one knows that better than his best friend & "brother", Gary Dempsey.
     In addition to his dad, Sergio Sr., Sarge was predeceased by his grandmother, Marina Forte and grandparents, Sam and Arlene Corcimiglia.
     He will be sadly missed by his children, Sara Jo, Sergio III "Gino", Lola Rae (Shawn) and stepdaughter, Ajia Hasenauer; grandchildren, Kallia, Tatum, Stella, Maddox and Hazley; significant other, Missi Wray; mother, Margaret (Mitch) Schepler; sisters, Angela (Juan) and Chrissy and her daughter, Gianna; two brothers; nieces, Kristen, Savannah, Gigi and Ellianna; nephews, Timmy, Dominic, Julius, Armani and Nico, along with many dear friends.
     Family and friends may call on Sunday, June 5, from 3 ~ 6 P.M. at the Falcone Family Funeral & Cremation Service Inc., 8700 Lake Road (Rt. 19), LeRoy, where a Celebration of Sarge's Life will be held at 6:00 P.M.
     In lieu of flowers, memorials may be made to Sarge's family c/o Lola Forte, 88 Myrtle Street, LeRoy, N.Y. 14482
     Your memories and condolences may be shared with Sarge's family at www.falconefuneralhome.com.