June 6, 2022 - 8:49am
Daniel Leonard Pelton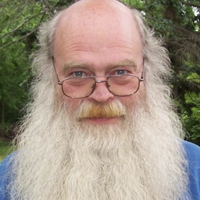 Daniel Leonard Pelton 2/23/1957 – 6/1/2022
Daniel Pelton, 65, of Stafford passed away Wednesday, June 1, 2022, at Hildebrandt Hospice Care Center in Greece.
Dan was born in Batavia on February 23, 1957, a son of the late Leo and Pauline Kohl Pelton. He resided in Stafford for the past 40 years and lived in LeRoy prior to that.
If you were lucky enough to have known Dan, you're better off for it.

In his 65 years upon this good earth, Dan always found a way to entertain and amuse those around him. He is remembered for his wealth of knowledge, his quick wit, and his cheerful laugh.
Dan was unique. We all learned a lot from him. He was a constant learner. He was truly "ONE OF A KIND."

Dan graduated from Alexander Central High School in 1975. He participated in a summer youth exchange program in Peru, was involved in scouting, and spent many summers as a camp counselor at YMCA Camp Arthur G. Hough on Silver Lake. He was known as the "Wolfman" and was legendary in his telling of campfire stories, many of them involving lake monsters.
He attended the University of Buffalo where he read as many science books as he could. After college, he worked at a variety of firms including Lapp Insulator. He held the full assortment of computer jobs – everything from building them, to writing source code or providing customer support (sometimes in Spanish).

Dan had a passion for the natural world and a curiosity that knew no bounds. In the late 1970s, Dan was scoutmaster for one of the local troops. He led the troop's effort to forge paths through the LeRoy wilderness that to this day the locals still refer to as "Dan's Trails." The troop took over the maintenance of Dan's Trails. Dan could reliably be found at the Bird Auction and prized himself on his feathered acquisitions. He loved unusual flora and fauna. His knowledge of the Bergen Swamp was unrivaled.

He is survived by his daughter Nicole (Ted) of Holley; his ex-wife Betty Sue of LeRoy; his siblings Jerome (Sharon) of Texas, Sharon (John) of California, Charles (April) of Attica, Andrew (Debra) of Attica, Nicholas (Holly) of East Bethany; 2 grandchildren; as well as many cousins, nieces, and nephews. He is preceded in death by his half-siblings Jonathan and Myrna of Wayland.

The family is holding him in their thoughts and prayers and hopes that each of you finds your own way to honor this truly unique man. There will never be another like him. Gifts in his memory may be made to his family or to the Xerces Society.