Image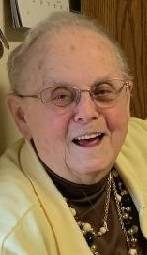 Eileen M. Pratt, 91 of Batavia, passed away peacefully on Friday (June 10, 2022) at United Memorial Medical Center.
She was born January 22, 1931 in Coudersport, PA a daughter of the late Coily and Lillian Gray Burgett.
Eileen was employed by Kisiel Die Casting Co. and Tompkins Die Casting Co. in Batavia prior to her retirement.
She was the wife of the late Norman Pratt and sister of the late Clifford Burgett, Harvey Burgett and Evelyn Davis.
Survivors include her children, Norma Bauer of Texas, Patricia Dick of Canandaigua, Bettyjo (David) Gizzi of Hamburg, Sherry Lynn (Andy) Coppi of Texas, Norman (Debbie) Pratt of Darien, Kelley (Scott) Smith of Virginia and Chad Pratt of Oakfield. Also survived by several grandchildren, great-grandchildren, nieces and nephews.
Family and friends are cordially invited to share thoughts, condolences and fond memories on Thursday (June 16th) from 5-7pm at the J. LEONARD McANDREW FUNERAL HOME, LLC, 2 Bogue Ave., Batavia, NY. Burial will be in Morganville Cemetery, Stafford, NY.
Expressions of sympathy may be shared with the family at: www.mcandrewfuneralhomes.net.
ARRANGEMENTS WERE ENTRUSTED TO THE J. LEONARD McANDREW FUNERAL HOME, LLC, 2 BOGUE AVE,, BATAVIA, NY 14020. RONALD KONIECZNY II, DIRECTOR.