June 10, 2022 - 4:19pm
KEEGAN J. LACHUT
posted by
Ronald Konieczny
.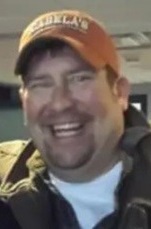 Keegan J. Lachut, 42 of Corfu, passed away unexpectedly in his sleep on Wednesday (June 1, 2022) at his residence.
He was born July 8, 1979 in Dunkirk, NY, a son of Alison Ruckh Penna and the late Charles Lachut.
Keegan was a 1997 graduate of Pine Valley Central School and attended the Universal Technology Institute for Diesel Mechanics.  As part of his career he also received several certifications in safety and waste management. He was a proud member of the International Operators Union Local 17, where he worked for companies such as Anastasi Trucking, Ciminelli, Pinto, West Valley Nuclear and Benchley Cranes.
Some of his career accomplishments was that he ran Buffalo's first Tower crane during the construction of Buffalo's Medical Campus, helped in the construction of wind turbines along the Lake Erie water front and was superintendent of WNY's largest manufacturing building, Solar City. Keegan was also skilled in the plumbing trade which was passed down from his grandfather, to his father and to him.
Keegan and his brother Brent shared a special bond that only brothers could have. They were best friends. Always talking on the phone every morning on the way to work and gaming together at night. Brent will greatly miss his brother as will His wife Aimee who thought of him as a brother.   She too will be lost without him.
Keegans many pastimes include hunting and fishing, camping with his companion and niece and nephew, gaming with his family and friends, singing and playing guitar, playing pool, boating and woodworking. Most of all he loved spending time with his family
Survivors include his mother, Alison (Tom) Penna of S. Dayton, NY. Brother, Brent (Aimee) Lachut of S. Dayton. Aunts and uncles, Lana Austin of S. Dayton,Linda (Skip) Sticek of S. Dayton, Carol Lachut of Arkansas and Andrea Herrington of Virginia. Nieces and Nephews, Wesley Lachut, Chloe Lachut, Cole Lachut, Bella Lachut, Brody Lachut, Kate Lachut and Jeff Bender. Companion, Anna Kennedy. Also survived by many cousins and friends all over WNY.
Predeceased by grandparents, Vern and Millie Ruckh and Edward and Agnes Lachut. Uncles, Ray Austin and Allen Lachut.
Because Keegan was an avid Buffalo Bills fan, the family would like memorials in his name to be made to The Patricia Allen Fund, Benefiting Oishei Children's Hospital, 818 Ellicott St., Buffalo, NY 14203.
 There will be a Celebration of Life on Sunday June 19th at the Trillium Lodge in Cherry Creek, NY from Noon until 4 pm.
Expressions of sympathy may be shared with the family at: www.mcandrewfuneralhomes.net.
ARRANGEMENTS WERE ENTRUSTED TO THE J. LEONARD McANDREW FUNERAL HOME, LLC, 2 BOGUE AVE., BATAVIA, NY 14020. RONALD KONIECZNY II, DIRECTOR.