June 13, 2022 - 11:41am
Patricia Jean (Brown) Herman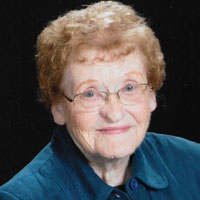 Patricia J. Herman, 91, of Indian Falls, NY, passed away peacefully, Friday, June 10, 2022.
Pat was born on March 4, 1931, in the family home in Indian Falls, the daughter of the late Gladwin "Bill" and Elizabeth "Betty" (Haas) Sliker. Pat was predeceased by her beloved husband, Richard J. Brown and her devoted husband, Charles A. Herman.
Pat was a dedicated member of the Indian Falls United Methodist Church for 70 years and active in numerous groups at church.  She was a founding member of Indian Falls Campground and picnic area. Pat worked closely with her parents to manage the campground until her father's passing. She was a member of the East Pembroke Rebekah's.  Pat was a legal secretary to Sherwin Wittman at his law firm and a longtime bookkeeper for William's Poultry Farm in Pembroke were many happy memories and lifelong friendships were established.
Pat loved to be creative, taking many classes in flower arranging, stain glass production and cake decorating. She was known far and wide with her family and friends for her delicious and moist cakes. Many in Genesee County and the surrounding area, have had the pleasure of sampling her baking expertise! Pat was very active with her graduating class and childhood friends all through her adult life. She took great pride and loved researching her nuclear and extended family genealogy. Pat had a love of nature, especially keeping the bird population around her home well fed.
Pat never had to register a "change of address" with the United States Postal Service. She lived and loved her entire existence in the beautiful hamlet where her grandparents forged a legacy, finding pure contentment on the hill between her lake and the creek.
Pat is survived by her children; Cindy (Bill) White, Douglas Brown, Darlene (Mark) Bramley and Laurie (Tracy) Rudolph; her step-children; Charles (Lori) Herman, Julie (Pat Marvin) Herman, Richard (Nicole Hornstein) Herman and Betsy (Sander) Abramson; 13 grandchildren and step-grandchildren and 17 great grandchildren and step great-grandchildren. Pat is also survived by her cousin, Winnie Murray.

Family and friends may call Friday, June 17, 2022, from 4 to 8 p.m. at the C. B. Beach & Son Mortuary, Inc., 4 East Main Street, Corfu. Funeral services will be held Saturday, June 18, 2022, at 11 a.m. at the Indian Falls United Methodist Church, 7908 Allegheny Road, Corfu, NY. Burial will be in Evergreen Hill Cemetery, Corfu. 
Memorials may be made to the church.