June 17, 2022 - 5:39pm
Margaret L. Volino
posted by
LaVern Falcone
.
Margaret Louise Volino, 85 went to be with the lord on June 16, 2022 at the LeRoy Village Green Nursing Home.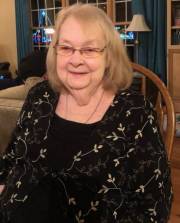 Margaret was born on May 5, 1937. She was a daughter of the late Lucian and Clara Volino, of Batavia.
     Margaret will be sadly missed by her loving family. She will be remembered for the love she had for her family, playing cards, taking Bubba for car rides and her feisty personality. She enjoyed visiting her family in person and on facetime. Margaret shared her love of nature, by feeding and watching the squirrels and birds outside her window. She shared laughter and coffee with her friends and family at LVG. She enjoyed spending time with her late friend, Betty Clark.
     She is survived by her two sisters, Pearl (Ray) Eley and Joanne Goodman. She was predeceased by her brother, Anthony Volino.
     Margaret's beloved children include Arthur Smith Jr., Bonny (Tom) Shelby, Pearl (Ray) Moutray and Anthony (Kellie) Smith, along with their fathers: James (Peggy) Sweeney and Arthur (Patty) Smith Sr.
     Her grandchildren include: Sara Smith, Crystal (Matthew) Butler, Erin (Joseph) Graff, Thomas (Jessica) Shelby, Ashley Moutray, Bonny (William) Palmatier, Anthony Smith Jr., and Daniel Smith; eleven great grandchildren include: Nathan, Mason, Eleanor, Francis, Gabrielle, Gianna, Lila, Finnegan, Edward, Riley, and William. She also has several nieces and nephews.
     Family and friends may call on Wednesday, July 27 from 4 ~ 7 PM at the Falcone Family Funeral & Cremation Service Inc., 8700 Lake St. Rd., LeRoy.  Her Rite of Christian Burial will be held on Thursday, July 28 at 11:00 AM at St. Mary's Church, 18 Ellicott Street, Batavia, NY.  Interment will follow in St. Joseph's Cemetery.
     Your memories and condolences may be shared with Margaret's family at www.falconefuneralhome.com