Image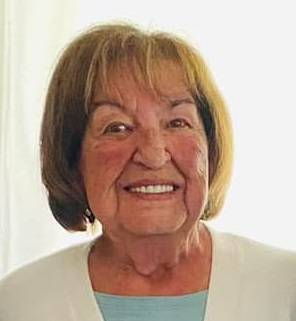 Jeanne Woodhouse, age 83,  of Batavia  passed away peacefully surrounded by her family on Wednesday, June 22, 2022 at Crossroads House in Batavia.
She was born Tuesday, February 28th, 1939 in Batavia, a daughter of the late Alphonso Ficarella and Mary Strollo Ficarella.
She will be remembered by her family for her unselfish nature placing others needs before hers and sauce on Sundays at 2 o'clock where everyone was always welcome. A 1956 graduate of Batavia High School, she worked as a telephone operator before getting married.  She also worked briefly at Marley's Department Store in Batavia and as the volunteer coordinator for HomeCare & Hospice in Batavia (after the passing of her husband).  In her younger years, she was very involved with her church, The First Presbyterian Church of Batavia, cooking meals for Youth Club.
Jeanne is the wife of Robert G. Woodhouse Sr. who passed away in 1997 and mother of the late Bobby Woodhouse who passed away in 2015.
She is survived by her children; Dawn Woodhouse of Batavia, John (Julie) Woodhouse of St. Cloud, Florida and Shannon (Danny) Ford  of Attica; eleven grandchildren,  Bethany (Todd) Hoover of Alexander, Clayton Wolcott  of Batavia, Sage Wolcott who is currently stationed with the United States Navy in Georgia, Cody Woodhouse of St. Cloud, Florida, Hunter Woodhouse of Fort Worth, Texas, Rochelle Woodhouse  of Rochester, Jessica (Andrew) Simons of Vero Beach, Florida, Kasey Woohouse of Alexander, Morgan (Jared) Quinn  of Stafford, McKenna Ford  of Attica and Nathan Ford of Buffalo; and nine great-grandchildren.
She is also survived by several brothers and sisters;  Anthony "Butch" Ficarella, Janet (Butch) Herdegen, Bunny Hamilton, Mary Reeger, Paul Ficarella, Joe (JoAnn) Ficarella, Karen Roesch, and John (Patricia) Ficarella; many nieces and nephews; and her dear friend, Diane Lang.  She is predeceased by a brother, Anthony Strollo.
Family and friends are invited to call on Sunday from 2 pm to 5 pm. at the H.E. Turner & Co. Funeral Home, 403 East Main Street, Batavia. Private services will be held at the convenience of the family. She will be laid to rest in Grand View Cemetery, Batavia. In lieu of flowers, memorials in her name may be made to Crossroads House, P.O. Box 403, Batavia, New York 14021.  To leave a condolence, share a story, or light a candle, please visit www.bataviafuneralhomes.com.